Follow @BeerSmith
This week Mark Edelson joins me from Iron Hill brewery to discuss how he makes operational decisions across his 19 Craft brewery locations.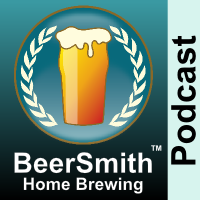 Subscribe on iTunes to Audio version or Video version or Spotify or Google Play
Download the MP3 File– Right Click and Save As to download this mp3 file.
Topics in This Week's Episode (50:46)
This week I welcome back Mark Edelson, brewer and owner at Iron Hill Brewery in Philadelphia. Mark started as a homebrewer and opened Iron Hill in 1996. He has expanded now to 19 locations and has brought home 49 GABF awards.
Mark joins me to discuss how he makes operational and brewing decisions for his Craft Brewery. We start with a discussion of what has happened to Iron Hill since he last joined us for episode #203 back in the Fall of 2019.
We discuss the impact of COVID and how the business has adapted over the last two years.
I talk with Mark about how he makes some of the critical operational decisions like how he selected his first lineup of beers back in 1996.
We discuss how the beer lineup has evolved over the last 26 years.
Mark shares which beers are selling the most at the moment.
We talk about how he goes about deciding which beers are worthy of being added to the lineup.
He shares his thoughts about when to retire a beer as well as some of the beers that did not quite work out as he expected.
We discuss recipe formulation and refinement.
He shares where he things Craft Beer might go in the future after the recent shake-up in the industry.
We talk about what the next trendy beer might be.
Mark shares his closing thoughts.
Sponsors
Thanks to Mark Edelson for appearing on the show and also to you for listening!
iTunes Announcements: I launched a new video channel for the BeerSmith podcast on iTunes, so subscribe now! At the moment it will only feature the new widescreen episodes (#75 and up). Older episodes are available on my revamped Youtube channel. Also all of my audio episodes are on iTunes now – so grab the older episodes if you missed any.
Thoughts on the Podcast?
Leave me a comment below or visit our discussion forum to leave a comment in the podcast section there.
Subscribe to the Podcast on iTunes or BeerSmith Radio
You can listen to all of my podcast episodes streaming live around the clock on our BeerSmith Radio online radio station! You can also subscribe to the audio or video using the iTunes links below, or the feed address
And finally, don't forget to subscribe to the blog and my newsletter (or use the links in the sidebar) – to get free weekly articles on home brewing.
Related Beer Brewing Articles from BeerSmith:
Enjoy this Article? You'll Love Our BeerSmith Software!
Don't make another bad batch of beer! Give BeerSmith a try - you'll brew your best beer ever.
Download a free 21 day trial of BeerSmith now