Joined

Aug 18, 2018
Messages

4
Reaction score

0
Hi,
I am adding hops at different times (and thus at different temperatures) in the whirlpool.  For example, I add hops right at flameout (approx 194F), wait 5 minutes, then chill down to 170F, when I add more hops for 30 minutes.  So the first batch of hops gets 5 min at 194F, and then 30 more minutes at 170F.
But the order shown in Beersmith is revers of this. Here is a screenshot: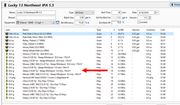 In my thinking, the 194F hops should be shown first, but they display after the 170F hops.  Is there something that I can set to change this?