Joined

Apr 7, 2020
Messages

3
Reaction score

0
Greetings!
I need some help understanding what beersmith is doing with volumes.  I am tinkering with it and trying to setup a simple example.  I do full volume BIAB mash, so to obtain 5.5 gallons into the fermenter, assuming 0.5 gallons absorbed in grain and 1 gallon boiled off, I expect my starting mash water to be 7 gallons.
I setup the absortion rate in the options and the boil off rate in the equipment.
Beersmith says 7.25 gallons to start.  The discrepency appears to be the cooling shrinkage, which is 0.23.  With the calculated 0.52 gallon absorbed by the grain, the 0.23 difference is exact.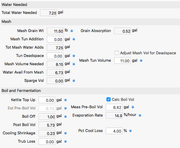 If this is the case, it makes no sense to me.  The initial volume is at room temperature... the volume difference is "gained" heating and "lost" during cooling.  It should have no bearing on initial volume at room temperature.
or, is something else going on i don't understand?
Thanks much!
-Jakub