Joined

Sep 13, 2014
Messages

9
Reaction score

0
Hello brewers!
So, I'm scaling down my brewing, but still trying different things.  I've scaled down from good old 5 gal BIAB to 2.5 gal, or even 1 gal.  (Simply get to brew more often and expirament more.
I want to co2 carbonate my small batches in growler or gallons.
I've got one of these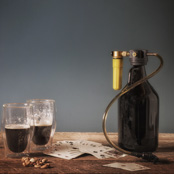 and one of these
The Growltap relief valve pops at 15psi.  Is this sufficient to carbonate the growler?  From the tables I have seen I believe I will need to do this in my fermentation frig to hit a typical 2.3-2.5 volumes.  (Side question, due to not getting a sufficient response from Growltap.  Is the Co2 always under pressure in the bottle, or is it only released when the tap valve is opened?)
Looking forward to all your replies.