Joined

Nov 25, 2019
Messages

2
Reaction score

0
I am using the Brewer's Edge Mash and Boil system and created an Equipment profile specifically for it.  My question revolves around confusion with water volumes when setting up a Batch Sparge.
On the Mash section, I see two different mentions of volumes and I am not sure which I should be paying attention to for my session: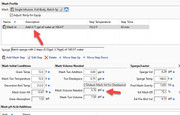 do I pay attention to the top section and the Sparge amount mentioned in the greyed-out section, or the entire middle section and the sparge amount of 4.49g listed there?  You'll see the top section has different volumes listed than the middle section.
Let me know if this is a better post for another topic form like Equipment.