Follow @BeerSmith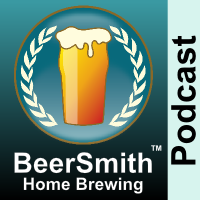 Stan Hieronymus, brewing author and most recent winner of the AHA Governing Committee award, joins me this week to discuss hops and emerging beer styles. Stan is the author of "For the Love of Hops", "Brew Like a Monk" and also "Brewing with Wheat".
Subscribe on iTunes to Audio version or Video version
Download the MP3 File – Right Click and Save As to download this mp3 file
[audio:http://traffic.libsyn.com/beersmith/BSHB-106-Stan.mp3]

Topics in This Week's Episode (54:03)
Stan Hieronymus joins me to discuss emerging beer styles and hops. Stan is the author of For the Love of Hops, Brew Like a Monk as well as Brewing with Wheat. (All Amazon affiliate links) Stan is also the recipient of this year's AHA Governing Committee Award recognizing lifetime achievement in brewing, though we recorded this episode before the award was given.
I apologize – we did have a slight background hum on Stan's microphone that could not be completely filtered out. I record episodes via skype and they are subject to the microphone and environment the guest has since we're not working from a studio. Hopefully you can still enjoy the episode!
Thank you to our sponsor Craft Beer and Brewing Magazine who is still offering a 15% discount with your subscription or other items when you use the new offer code beersmith2015 when you purchase.
You can subscribe to the BeerSmith newsletter mentioned in the show here. Also check out BeerSmith, BeerSmith Mobile software and the new DVDs John Palmer and I filmed – How to Brew with Malt Extract and How to Brew All Grain are available now.
Stan shares some of his recent projects including a new book he has started writing.
We discuss some of the new research ongoing in hops including whirlpool hopping and dry hopping.
Stan and I discuss the new BJCP 2015 style guide which was just released and includes a number of new beer styles.
Stan shares his thoughts on Grodziskie (covered in an earlier podcas) and how we are starting to see just a few commercial examples come out.
We also discuss the new Kentucky Common beer which is in the new style guide
Stan tells us how to brew a Kentucky Common, where it was produced and also the controversy over sour versions of this beer.
We talk about some of the other new styles in the BJCP guide including Gose, Sahti, Lictenhainer.
Another area where the style guide was expanded includes IPAs (21B) and Stan shares his thoughts on the new IPAs.
We close with Stan's thoughts and a short discussion of his new book scheduled for release in September of 2016.
Thanks to Stan Hieronymus for appearing on the show and also to you for listening!
iTunes Announcements: I launched a new video channel for the BeerSmith podcast on iTunes, so subscribe now! At the moment it will only feature the new widescreen episodes (#75 and up). Older episodes are available on my revamped Youtube channel. Also all 81 audio episodes are on iTunes now – so grab the older episodes if you missed any.
Thoughts on the Podcast?
Leave me a comment below or visit our discussion forum to leave a comment in the podcast section there.
Subscribe to the Podcast on iTunes or BeerSmith Radio
You can listen to all of my podcast episodes streaming live around the clock on our BeerSmith Radio online radio station! You can also subscribe to the audio or video using the iTunes links below, or the feed address
And finally, don't forget to subscribe to the blog and my newsletter (or use the links in the sidebar) – to get free weekly articles on home brewing.
Related Beer Brewing Articles from BeerSmith:
Enjoy this Article? You'll Love Our BeerSmith Software!
Don't make another bad batch of beer! Give BeerSmith a try - you'll brew your best beer ever.
Download a free 21 day trial of BeerSmith now