Follow @BeerSmith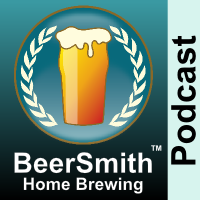 This week my guest is Chaz Benedict, who is an expert in commercial beer freshness and reducing oxygen content in finished beer. We explore beer freshness, oxygen in beer, and ways a home brewer can create beer that is long lasting and has a stable flavor profile.
Download the MP3 File – Right Click and Save As to download this mp3 file
[audio:http://traffic.libsyn.com/beersmith/BSHB-80-Benedict.mp3]

Topics in This Week's Episode (40:21)
Chaz Benedict is my guest this week from Hach company. Chaz is an expert in commercial beer freshness and oxygen in beer. He has a degree in Chrmistry from the University of California at Santa Cruz. He is also a member of the American Society of Brewing Chemist's Technical Committee. His blog is at TapIntoHach.com
We discuss how Chaz moved from underwater robotic vehicles into studying beer freshness.
He describes some of the major contributors to beer freshness.
We talk about how oxygen gets into a finished beer during the fermentation and bottling process
Chaz explains how oxygen in the beer leads to stale beer flavors
We discuss how you can minimize oxygen in the beer and also the use of oxygen absorbing bottle caps
Chaz discusses kegging briefly and how it is used
We talk about CO2 purity and how pure the CO2 supply is that we may be purchasing from a CO2 supplier for kegging
Chaz explains other packaging considerations with beer
We explore the concept of sensory perception and how sensory perception drives the concept of freshness
Chaz provides a few additional tips for home brewers, as well as suggestions on where to learn more
Thanks to Chaz Benedict for appearing on the show and also to you for listening!
iTunes Announcements: I launched a new video channel for the BeerSmith podcast on iTunes, so subscribe now! At the moment it will only feature the new widescreen episodes (#75 and up). Older episodes are available on my revamped Youtube channel. Also all 76 audio episodes are on iTunes now – so grab the older episodes if you missed any.
Thoughts on the Podcast?
Leave me a comment below or visit our discussion forum to leave a comment in the podcast section there.
Subscribe to the Podcast on iTunes or BeerSmith Radio
You can listen to all of my podcast episodes streaming live around the clock on our BeerSmith Radio online radio station! You can also subscribe to the audio or video using the iTunes links below, or the feed address
And finally, don't forget to subscribe to the blog and my newsletter (or use the links in the sidebar) – to get free weekly articles on home brewing.
Related Beer Brewing Articles from BeerSmith:
Enjoy this Article? You'll Love Our BeerSmith Software!
Don't make another bad batch of beer! Give BeerSmith a try - you'll brew your best beer ever.
Download a free 21 day trial of BeerSmith now