Follow @BeerSmith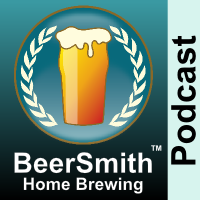 Michael Fairbrother from Moonlight Meadery joins me to discuss how you can make mead with the same equipment you are using now to brew beer. Michael walks us through the entire mead making process and provides some great tips along the way!
Subscribe on iTunes to Audio version or Video version
Download the MP3 File – Right Click and Save As to download this mp3 file
[audio:http://traffic.libsyn.com/beersmith/BSHB-88-Mead.mp3]

Topics in This Week's Episode (46:11)
Michael Fairbrother joins me from Moonlight Meadery for a discussion on mead. Michael is the founder and CEO of Moonlight Meadery, now one of the largest meaderies in the Northeastern US. He is also a nationally award winning mead maker, and frequent speaker on the topic of meads.
Thank you to our sponsor Craft Beer and Brewing Magazine who is still offering a 20% discount with your subscription when you use the offer code beersmith when you purchase.
We talk for a few minutes about what is going on at Moonlight Meadery and what mead is
Michael tells us about some of the different styles of mead and what goes into them
We overview the mead making process and how you can make a batch of mead at home
We talk about honey, the main ingredient, and also what varieties of honey work best in mead and where you can purchase quality honey including the Honey Locator
Michael tells us about different varieties of honey and how they affect the finished mead
He discusses yeast, and why he prefers to use a single type of yeast on all of his meads. We also talk about the proper pitch rates and water to be used for mead making
We talk about how staggered yeast nutrients can really improve fermentation and decrease the amount of time needed to enjoy your mead
Michael explains why oxygen is good in the early stages of mead fermentation, and why you should aerate your mead for the first few days
We discuss fermentation temperatures, schedules and tips for getting a clean fermentation
Michael shares his thoughts on additives as well as using sorbates to halt fermentation
We discuss making mead with fruits or spices
Michael shares some more thoughts on Moonlight Meadery as well as his final tips on making great mead
Thanks to Michael Fairbrother for appearing on the show and also to you for listening!
iTunes Announcements: I launched a new video channel for the BeerSmith podcast on iTunes, so subscribe now! At the moment it will only feature the new widescreen episodes (#75 and up). Older episodes are available on my revamped Youtube channel. Also all 81 audio episodes are on iTunes now – so grab the older episodes if you missed any.
Thoughts on the Podcast?
Leave me a comment below or visit our discussion forum to leave a comment in the podcast section there.
Subscribe to the Podcast on iTunes or BeerSmith Radio
You can listen to all of my podcast episodes streaming live around the clock on our BeerSmith Radio online radio station! You can also subscribe to the audio or video using the iTunes links below, or the feed address
And finally, don't forget to subscribe to the blog and my newsletter (or use the links in the sidebar) – to get free weekly articles on home brewing.
Related Beer Brewing Articles from BeerSmith:
Enjoy this Article? You'll Love Our BeerSmith Software!
Don't make another bad batch of beer! Give BeerSmith a try - you'll brew your best beer ever.
Download a free 21 day trial of BeerSmith now