Follow @BeerSmith
John Blichmann joins me this week to discuss ways to simplify your brew day with "common sense brewing", beer brewing and intelligent use of your equipment.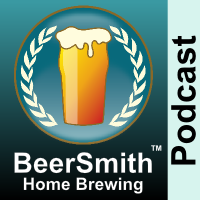 Subscribe on iTunes to Audio version or Video version or Spotify or Google Play
Download the MP3 File– Right Click and Save As to download this mp3 file.
Topics in This Week's Episode (46:56)
This week I welcome back John Blichmann. John Blichmann is President of Blichmann Engineering. Blichmann is the innovative creator of innovative home brewing equipment like the Anvil Foundry, BrewEasy, and new RipTide brewing pump. John is a lifetime brewer, frequent guest, sponsor of the show, and good friend.
We start with a short discussion of how John's business has been doing with the recent growth in home brewing.
John tells us a bit about his overall concept of "common sense brewing" and approaches for simplifying the process.
We talk about carbonation, and how some brewers make it a bit more complex than needed.
John shares his thoughts on bottling from the keg including various methods for doing so.
We discuss "low ox" brewing and how some brewers go overboard trying to reduce oxygen before fermentation.
John and I discuss transfers and ways to minimize risk when transferring beers after fermentation. We also talk about pressurized transfers.
We talk a bit about pressurized fermentation which John discussed back in episode 163.
We discuss how too much complexity in brewing can spoil the fun, unless complexity happens to be the part of brewing you enjoy.
We talk about the growing popularity of "all in one" brewing systems including several Anvil and Blichmann systems.
John gives his closing thoughts.
Sponsors
Thanks to John Blichmann for appearing on the show and also to you for listening!
iTunes Announcements: I launched a new video channel for the BeerSmith podcast on iTunes, so subscribe now! At the moment it will only feature the new widescreen episodes (#75 and up). Older episodes are available on my revamped Youtube channel. Also all of my audio episodes are on iTunes now – so grab the older episodes if you missed any.
Thoughts on the Podcast?
Leave me a comment below or visit our discussion forum to leave a comment in the podcast section there.
Subscribe to the Podcast on iTunes or BeerSmith Radio
You can listen to all of my podcast episodes streaming live around the clock on our BeerSmith Radio online radio station! You can also subscribe to the audio or video using the iTunes links below, or the feed address
And finally, don't forget to subscribe to the blog and my newsletter (or use the links in the sidebar) – to get free weekly articles on home brewing.
Related Beer Brewing Articles from BeerSmith:
Enjoy this Article? You'll Love Our BeerSmith Software!
Don't make another bad batch of beer! Give BeerSmith a try - you'll brew your best beer ever.
Download a free 21 day trial of BeerSmith now