Follow @BeerSmith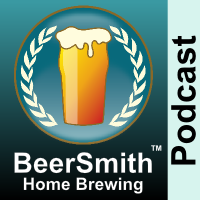 Mitch Steele, the Brewmaster at Stone Brewing Co joins me this week to discuss trends in IPAs. India Pale Ale has exploded the last few years, and is now one of the fastest growing styles in Craft Brewing. Mitch Steele at Stone is leading the trend.
Subscribe on iTunes to Audio version or Video version
Download the MP3 File – Right Click and Save As to download this mp3 file
[audio:http://traffic.libsyn.com/beersmith/BSHB-96-IPA-Steele.mp3]

Topics in This Week's Episode (49:45)
Today my guest is Mitch Steele who is the Brewmaster at Stone Brewing Co, and also author of the book

IPA: Brewing Techniques, Recipes and the Evolution of India Pale Ale

(Amazon affiliate link). He joins me this week to discuss trends in India Pale Ales – one of the fastest growing segments of the Craft Beer market.
Thank you to our sponsor Craft Beer and Brewing Magazine who is still offering a 15% discount with your subscription or other items when you use the new offer code beersmith2015 when you purchase.
Also check out BeerSmith software, the new DVDs John Palmer and I filmed – How to Brew with Malt Extract and How to Brew All Grain are both available now.
We start with a short discussion of what is new at Stone Brewing Company
Mitch explains that IPAs have exploded the last few years and now make up nearly 40% of Stone's sales, and almost half of their year-round releases.
We talk for a few minutes about their mainline Arrogant Bastard Ale and its recent spin-offs
Mitch tells us about some of the trends were seeing with IPAs including a number of new styles and techniques
We discuss the history of IPAs and how they have evolved over the years – history was a large focus in Mitch's book on IPAs.
Mitch shares just how simple an IPA can be and why simpler might be a better approach when brewing IPAs
We talk about bitterness, including the limits of how many IBUs and hops you can put into a beer as well as the limits of what an average drinker can perceive in terms of bitterness
Mitch tells us about his philosophy on bittering hop additions – again simplicity seems to rule
He shares his thoughts on the use of whirlpool hops which add considerable flavor and unique hop oils that are different from the ones used in the boiol
Mitch shares his thoughts on dry hopping and how and when dry hops are added at Stone
We discuss the new "Black IPAs" and dark IPAs and how to achieve the proper balance between roasted malts and hoppiness
Mitch shares a few of his favorite hops including many of the new hop varieties
We talk about brewing water as well as fermentation and yeast for an IPA
Mitch shares some thoughts on his book – which is still the definitive work on IPAs for brewers
He shares his closing thoughts.
Thanks to Mitch Steele for appearing on the show and also to you for listening!
iTunes Announcements: I launched a new video channel for the BeerSmith podcast on iTunes, so subscribe now! At the moment it will only feature the new widescreen episodes (#75 and up). Older episodes are available on my revamped Youtube channel. Also all 81 audio episodes are on iTunes now – so grab the older episodes if you missed any.
Thoughts on the Podcast?
Leave me a comment below or visit our discussion forum to leave a comment in the podcast section there.
Subscribe to the Podcast on iTunes or BeerSmith Radio
You can listen to all of my podcast episodes streaming live around the clock on our BeerSmith Radio online radio station! You can also subscribe to the audio or video using the iTunes links below, or the feed address
And finally, don't forget to subscribe to the blog and my newsletter (or use the links in the sidebar) – to get free weekly articles on home brewing.
Related Beer Brewing Articles from BeerSmith:
Enjoy this Article? You'll Love Our BeerSmith Software!
Don't make another bad batch of beer! Give BeerSmith a try - you'll brew your best beer ever.
Download a free 21 day trial of BeerSmith now