Follow @BeerSmith
Dr Charlie Bamforth joins me this week to discuss the use of non-barley adjuncts in beer brewing.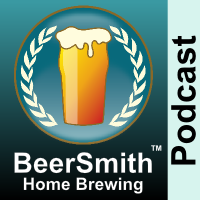 Subscribe on iTunes to Audio version or Video version or Spotify or Google Play
Download the MP3 File– Right Click and Save As to download this mp3 file.
Topics in This Week's Episode (55:59)
This week I welcome back Dr Charlie Bamforth, Professor Emeritus at the University of California at Davis. Charlie joins me this week to discuss the use of non-barley adjuncts in beer.
We discuss some of Charlie's projects in retirement including his new book on Soccer and also several books he's been working on related to beer.
We discuss why the use of adjucts is very important in modern beer making and the fact that American Adjunct lager is still the most popular beer style in the world.
We talk about the reasons to use adjuncts, which includes not only cost, but also body, flavor and other effects on the finished beer.
Charlie explains why adding adjuncts can go well beyond the additional starches and sugars.
We talk about corn, which is the most popular US adjunct commercially but also discuss some other grains that can be used in beer.
Charlie discusss gelatanization and why that is important to break down starches in most cereals. We talk about options including flaked, torrified and the use of a cereal cooker for gelatanization.
He shares his thoughts on the wide range of forms that adjuncts can take – including liquid, powdered, torrified, flaked and more.
We dive a bit into the adjuncts more commonly used by homebrewers including wheat, oats and rye.
Charlie explains the use of gluten free adjuncts like Sourgum.
We talk about Chicha beer and other beers made without barley grain and sometimes even without hops.
Charlie discusses using a high percentage of adjuncts in beers, and also gives us his closing thoughts.
Sponsors
Thanks to Dr Charlie Bamforth for appearing on the show and also to you for listening!
iTunes Announcements: I launched a new video channel for the BeerSmith podcast on iTunes, so subscribe now! At the moment it will only feature the new widescreen episodes (#75 and up). Older episodes are available on my revamped Youtube channel. Also all of my audio episodes are on iTunes now – so grab the older episodes if you missed any.
Thoughts on the Podcast?
Leave me a comment below or visit our discussion forum to leave a comment in the podcast section there.
Subscribe to the Podcast on iTunes or BeerSmith Radio
You can listen to all of my podcast episodes streaming live around the clock on our BeerSmith Radio online radio station! You can also subscribe to the audio or video using the iTunes links below, or the feed address
And finally, don't forget to subscribe to the blog and my newsletter (or use the links in the sidebar) – to get free weekly articles on home brewing.
Related Beer Brewing Articles from BeerSmith:
Enjoy this Article? You'll Love Our BeerSmith Software!
Don't make another bad batch of beer! Give BeerSmith a try - you'll brew your best beer ever.
Download a free 21 day trial of BeerSmith now