Follow @BeerSmith
Happy New Year! I recently expanded our Beer Recipe Cloud at BeerSmithRecipes.com by moving to a new server and I'm now offering 50% more storage for all users, including free accounts as well as discounts on all member accounts.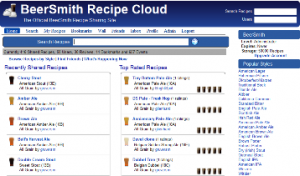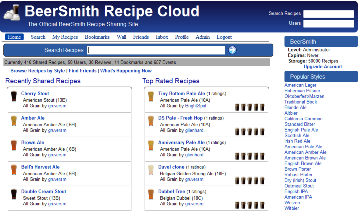 I launched BeerSmithRecipes.com last May, and a little over half a year it has grown to over 16,000 users storing almost 42,000 beer recipes. With the launch of our BeerSmith Lite mobile app for Android, iPhone, iPad and Kindle last fall, the site was starting to slow down from the combined traffic from mobile and web searches, which have reached several hundred thousand per month. So it was time for an upgrade! I moved to a much larger dedicated server in December, which provides a lot of room for new growth.
Since I now have the room, today I increased the storage limits for all users (both paid and free) accounts by 50%, so you can now store and share more recipes between machines, with your friends or to your mobile device. I also have placed BeerSmithRecipes memberships on sale for 50% off in most cases. You can get a one year gold membership for $9.99 or a six month gold trial for $5.99.
I would like to thank the many thousands of people who have already taken time to share their best recipes, and encourage you to take a few minutes to publish yours or rate another member's recipe. If you have not tried out the new cloud service with BeerSmith 2.1 I have a video overview here.
I'm still hard at work on the "full" mobile version of BeerSmith which will include recipe editing and plan to have it ready for release this Spring. It, too, will be fully integrated with the BeerSmith cloud to make transfer and sharing of recipes across your devices as easy as possible.
Related Beer Brewing Articles from BeerSmith:
Enjoy this Article? You'll Love Our BeerSmith Software!
Don't make another bad batch of beer! Give BeerSmith a try - you'll brew your best beer ever.
Download a free 21 day trial of BeerSmith now