Follow @BeerSmith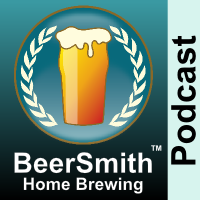 BJCP President Gordon Strong joins me to discuss the 2015 BJCP Beer Style Guide update that was just released by the Beer Judge Certification Program. The new, expanded style guide is used worldwide by home and professional brewers for competition and brewing great beer.
Subscribe on iTunes to Audio version or Video version
Download the MP3 File – Right Click and Save As to download this mp3 file
[audio:http://traffic.libsyn.com/beersmith/BSHB-104-BJCP.mp3]

Topics in This Week's Episode (51:54)
Gordon Strong is President of the Beer Judge Certification Program (BJCP) and their only Grandmaster Level VII judge. Gordon is also a three-time Ninkasi award winner for "most wins" in US competition. He is the author of Brewing Better Beer, and has a new book arriving next month called Modern Homebrew Recipes (both Amazon affiliate links). Gordon joins me to discuss the new BJCP beer style guide just released by the BJCP.
Thank you to our sponsor Craft Beer and Brewing Magazine who is still offering a 15% discount with your subscription or other items when you use the new offer code beersmith2015 when you purchase.
Also check out BeerSmith, BeerSmith Mobile software and the new DVDs John Palmer and I filmed – How to Brew with Malt Extract and How to Brew All Grain are available now.
Gordon starts with a discussion of his new projects including his new book and the style guide
He explains what the Beer Judge Certification Program (BJCP) is and what the main mission is.
Gordon tells us how one becomes a certified beer judge, as well as a little bit about BJCP sanctioned beer competitions
We discuss the levels of beer judging and how one advances to higher levels via testing and experience
Gordon tells us a bit about the new BJCP style guide for 2015 and what it is used for
We talk about some of the things that have changed from the 2008 style guide to the new 2015 guide which is much more extensive
Gordon explains why the beer style guide is now separate from the mead and cider style guidelines
He tells us about many of the new styles and categories in the 2015 style guide – about 30 were added
We discuss how the style guideline is now used for many things in addition to competition
Gordon tells us when the new guidelines will be in use both for testing judges and for beer competition
We talk a bit about Gordon's new book "Modern Homebrew Recipes" which is a collection of recipes organized around the new style guidelines
Gordon shares his closing thoughts
Thanks to Gordon Strong for appearing on the show and also to you for listening!
iTunes Announcements: I launched a new video channel for the BeerSmith podcast on iTunes, so subscribe now! At the moment it will only feature the new widescreen episodes (#75 and up). Older episodes are available on my revamped Youtube channel. Also all 81 audio episodes are on iTunes now – so grab the older episodes if you missed any.
Thoughts on the Podcast?
Leave me a comment below or visit our discussion forum to leave a comment in the podcast section there.
Subscribe to the Podcast on iTunes or BeerSmith Radio
You can listen to all of my podcast episodes streaming live around the clock on our BeerSmith Radio online radio station! You can also subscribe to the audio or video using the iTunes links below, or the feed address
And finally, don't forget to subscribe to the blog and my newsletter (or use the links in the sidebar) – to get free weekly articles on home brewing.
Related Beer Brewing Articles from BeerSmith:
Enjoy this Article? You'll Love Our BeerSmith Software!
Don't make another bad batch of beer! Give BeerSmith a try - you'll brew your best beer ever.
Download a free 21 day trial of BeerSmith now