Follow @BeerSmith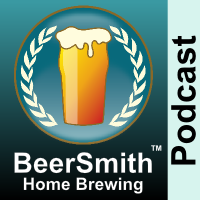 Dr Charlie Bamforth, Distinguished Professor of Brewing Science from the University of California at Davis joins me this week to discuss malted barley, its alternatives and the huge impact malt has on beer.
Subscribe on iTunes to Audio version or Video version
Download the MP3 File – Right Click and Save As to download this mp3 file
[audio:http://traffic.libsyn.com/beersmith/BSHB-105-Malt-Bamforth.mp3]

Topics in This Week's Episode (58:04)
Dr Charlie Bamforth is Distinguished Professor of Brewing Science and Distilling at the University of California at Davis.
Thank you to our sponsor Craft Beer and Brewing Magazine who is still offering a 15% discount with your subscription or other items when you use the new offer code beersmith2015 when you purchase.
Also check out BeerSmith, BeerSmith Mobile software and the new DVDs John Palmer and I filmed – How to Brew with Malt Extract and How to Brew All Grain are available now.
We discuss some of the new projects Charlie is working on including his brewing short courses.
Charlie explains why good quality malt is critical in beer brewing and is not a huge expense for most larger breweries.
We talk about the use of adjuncts by some large brewers as well as the trend in Craft brewing towards 100% barley malt beers
Dr Bamforth walks us through the malting process and what it takes to turn raw barley into malted grain
We talk about the kilning process and how each malt house uses its own special process for creating their malted barley.
Charlie shares his thoughts on how malt is critical to the flavor of beer.
We discuss how even small changes in the malting process like recirculating the air used can have a large impact on the flavor of the malt.
He shares how foam is critically affected by malt and also why some crystal malts may not actually be enhancing the foam/body of the beer.
Charlie discusses the color derived from malt and changes that occur with heat and time.
He explains how malts have both a positive and negative effect on the clarity of the finished beer.
We talk about how malt affects the long term stability of the beer and also how it plays a role in staling, adding lipids and interacting with oxygen.
We discuss gushing and the source of its problems – usually from fungus.
We discuss alternatives to malt.
Charlie shares some of his recent publications and books.
Thanks to Dr Charlie Bamforth for appearing on the show and also to you for listening!
iTunes Announcements: I launched a new video channel for the BeerSmith podcast on iTunes, so subscribe now! At the moment it will only feature the new widescreen episodes (#75 and up). Older episodes are available on my revamped Youtube channel. Also all 81 audio episodes are on iTunes now – so grab the older episodes if you missed any.
Thoughts on the Podcast?
Leave me a comment below or visit our discussion forum to leave a comment in the podcast section there.
Subscribe to the Podcast on iTunes or BeerSmith Radio
You can listen to all of my podcast episodes streaming live around the clock on our BeerSmith Radio online radio station! You can also subscribe to the audio or video using the iTunes links below, or the feed address
And finally, don't forget to subscribe to the blog and my newsletter (or use the links in the sidebar) – to get free weekly articles on home brewing.
Related Beer Brewing Articles from BeerSmith:
Enjoy this Article? You'll Love Our BeerSmith Software!
Don't make another bad batch of beer! Give BeerSmith a try - you'll brew your best beer ever.
Download a free 21 day trial of BeerSmith now