Follow @BeerSmith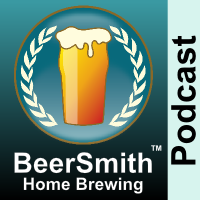 John Mallet, Director of Operations at Bell's Brewery and Andrea Stanley from Valley Malting join me to have a discussion about craft malt houses, malt and how small malt and hop houses are changing the face of craft beer.
Subscribe on iTunes to Audio version or Video version or on Google Play
Download the MP3 File – Right Click and Save As to download this mp3 file
[audio:http://traffic.libsyn.com/beersmith/BSHB-135-Malt.mp3]

Topics in This Week's Episode (55:49)
Today my guests are John Mallett, Director of Operations at Bell's Brewery and Andrea Stanley who runs a small malt house named Valley Malting in western Massachusetts. We discuss the emerging field of Craft Malting, a bit of malt history and how craft malting and other small ingredient growers are changing the malt and craft beer industries.
John talks about how his collaboration between big brewer and small malt house owner Andrea Stanley started.
Andrea and John both share some of their thoughts on the rich history of malting including many varieties and techniques that were largely lost.
Andrea talks about the resurgence of small malt houses (aka Craft Malting). In fact when we had her on last in podcast #59 she had started the only small malt house east of the Missisippi.
John discusses how local growing conditions as well as local barley varieties make the malt these small malrsters are making unique.
Andrea in fact sources most of her barley locally in addition to growing some unique varieties on her own land.
John and I discuss our brewing retreat in Colorado and how John made heavy use of sensory analysis when designing recipes there. We talk about malt and hop sensory analysis which has taken on an increasing role in brewing recently.
Andrea introduces a new ASBC method for doing sensory analysis of malts which involves making a hop tea at 65 C and then filtering the result through a coffee filter to get a tea more representative of the malt flavor in beer.
John runs a very large brewing operation at Bell's and talks about some of the advantages even a large Craft Brewer gets from interacting with craft malt houses.
Andrea shares her experience working closely with breweries and how that drives her entire malting business.
John talks about some of the beers he produced together with Andrea and how it has driven his beer brewing.
We also discuss the emergence of small craft hop growers again – including in areas like Michigan, New York and New England.
Andrea and John share some of the new projects they are working on as well as their closing thoughts.
You can sign up for Andrea's Farmer Brewer Winter Weekend (mentioned at end of the show) here.
And here is a picture of our guests dressed up in Williamsburg (mentioned in the show):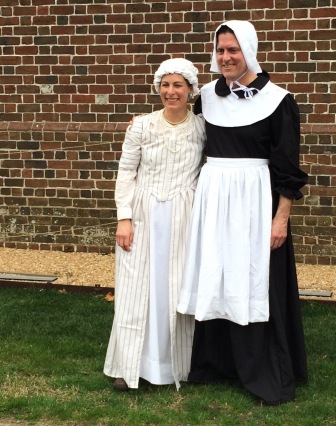 John and Andrea in their Colonial outfits (mentioned in the show) are featured above.
Sponsors
Thanks to John Mallett and Andrea Stanley for appearing on the show and also to you for listening!
iTunes Announcements: I launched a new video channel for the BeerSmith podcast on iTunes, so subscribe now! At the moment it will only feature the new widescreen episodes (#75 and up). Older episodes are available on my revamped Youtube channel. Also all of my audio episodes are on iTunes now – so grab the older episodes if you missed any.
Thoughts on the Podcast?
Leave me a comment below or visit our discussion forum to leave a comment in the podcast section there.
Subscribe to the Podcast on iTunes or BeerSmith Radio
You can listen to all of my podcast episodes streaming live around the clock on our BeerSmith Radio online radio station! You can also subscribe to the audio or video using the iTunes links below, or the feed address
And finally, don't forget to subscribe to the blog and my newsletter (or use the links in the sidebar) – to get free weekly articles on home brewing.
Related Beer Brewing Articles from BeerSmith:
Enjoy this Article? You'll Love Our BeerSmith Software!
Don't make another bad batch of beer! Give BeerSmith a try - you'll brew your best beer ever.
Download a free 21 day trial of BeerSmith now