Follow @BeerSmith
Scott Ungermann, Brewmaster at Anchor Brewing joins me to discuss the history of one of America's oldest small breweries.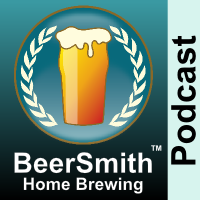 Subscribe on iTunes to Audio version or Video version or on Google Play
Download the MP3 File– Right Click and Save As to download this mp3 file.
[audio:http://traffic.libsyn.com/beersmith/BSHB-204-Anchor.mp3]
Topics in This Week's Episode (40:09)
This week I welcome Scott Ungermann, Brewmaster at Anchor Brewing, which is one of the oldest small breweries in the United States.
We discuss a bit about Scott's background which brought him to Anchor brewing around 1987 for a tour, and led to him starting home brewing.
Later he attended UC Davis and worked 18 years at Annheiser-Busch before joining Anchor Brewing as brewmaster in 2014.
We start with a bit of the history of Anchor Brewing which started during the California Gold Rush. The current "Anchor Brewing" name dates back to 1896
Anchor was one of the few small breweries to survive prohibition as well as industry consolidation in the 1950's and 1960's.
We talk about the 1980's when both Scott and I were introduced to Anchor Stem Beer.
Scott discusses Anchor Steam beer which was preserved by Anchor and is now known widely as the "California Common" beer style. We also talk about how steam beer is still fermented in open fermenters.
Scott provides some advice for those looking to create the perfect steam beer at home.
We discuss the "micro brew" years in the 1970's and 1980's when Anchor moved from brewing steam beer into other styles like Anchor Porter and made some of the first American Pale styles.
Scott briefly discusses Ninkasi beer which was made from bread in 1989 by Anchor
We move forward to today and discuss how Anchor's lineup has changed.
Scott shares a few beers added after his arrival including Bay Keeper and Fog Breaker
We talk about Anchor's 45'th annual Christmas Ale which creates a unique holiday ale every year.
Scott share his opinions on where he thinks craft brewing is going next after a decade of extraordinary growth
We talk about Scott's advice for home brewers
Sponsors
Thanks to Scott Ungermann for appearing on the show and also to you for listening!
iTunes Announcements: I launched a new video channel for the BeerSmith podcast on iTunes, so subscribe now! At the moment it will only feature the new widescreen episodes (#75 and up). Older episodes are available on my revamped Youtube channel. Also all of my audio episodes are on iTunes now – so grab the older episodes if you missed any.
Thoughts on the Podcast?
Leave me a comment below or visit our discussion forum to leave a comment in the podcast section there.
Subscribe to the Podcast on iTunes or BeerSmith Radio
You can listen to all of my podcast episodes streaming live around the clock on our BeerSmith Radio online radio station! You can also subscribe to the audio or video using the iTunes links below, or the feed address
And finally, don't forget to subscribe to the blog and my newsletter (or use the links in the sidebar) – to get free weekly articles on home brewing.
Mark Edelson joins me from Iron Hills Brewery to discuss the evolution of Craft Beer Brewing in the US.
Related Beer Brewing Articles from BeerSmith:
Enjoy this Article? You'll Love Our BeerSmith Software!
Don't make another bad batch of beer! Give BeerSmith a try - you'll brew your best beer ever.
Download a free 21 day trial of BeerSmith now