Follow @BeerSmith
Jamil Zainasheff, founder of Heretic Brewing joins me this week for a beer brewing question and answer session. I apologize for the audio quality – we had some echo coming through from Jamil's audio feed.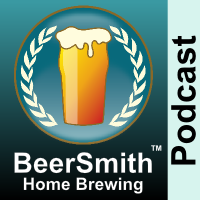 Subscribe on iTunes to Audio version or Video version or Spotify or Google Play
Download the MP3 File– Right Click and Save As to download this mp3 file.
Topics in This Week's Episode (42:49)
This week I welcome back Jamil Zainasheff. Jamil is the founder and owner of Heretic Brewing. Jamil joins us this week for another home brewing question and answer session.
We talk a bit about Heretic brewing and some of the adjustments he's made due to the pandemic.
Jamil shares his thoughts on adjusting mash pH for different beer styles.
We talk about processes and how important the brewing lab is to Heretic brewing.
Jamil shares his thoughts on the balance between technical brewing and the artistic side of brewing.
We discuss how important the knowledge of flavors is to a brewer when developing new recipes.
Jamil talks about adding depth to a malt bill and some considerations of how to do it best.
We discuss aroma oils and whirlpool hopping vs dry hopping as a technique.
Jamil shares his experience with hopping during active fermentation and recent research into dry hopping to get fruity IPA and hazy IPA flavors.
Jamil talks about how to best adjust water profiles for a given style of beer.
We discuss the rise of very high gravity beers vs more drinkable session beers.
Jamil shares his thoughts on judging beer.
He closes with his take on how a brewer can rapidly improve their beer brewing overall.
Sponsors
Thanks to Jamil Zainasheff for appearing on the show and also to you for listening!
iTunes Announcements: I launched a new video channel for the BeerSmith podcast on iTunes, so subscribe now! At the moment it will only feature the new widescreen episodes (#75 and up). Older episodes are available on my revamped Youtube channel. Also all of my audio episodes are on iTunes now – so grab the older episodes if you missed any.
Thoughts on the Podcast?
Leave me a comment below or visit our discussion forum to leave a comment in the podcast section there.
Subscribe to the Podcast on iTunes or BeerSmith Radio
You can listen to all of my podcast episodes streaming live around the clock on our BeerSmith Radio online radio station! You can also subscribe to the audio or video using the iTunes links below, or the feed address
And finally, don't forget to subscribe to the blog and my newsletter (or use the links in the sidebar) – to get free weekly articles on home brewing.
Related Beer Brewing Articles from BeerSmith:
Enjoy this Article? You'll Love Our BeerSmith Software!
Don't make another bad batch of beer! Give BeerSmith a try - you'll brew your best beer ever.
Download a free 21 day trial of BeerSmith now