Follow @BeerSmith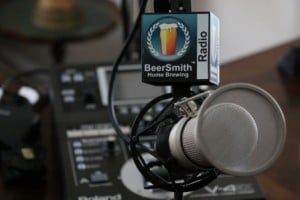 Dr Charlie Bamforth joins me this week to discuss how brewing yeast and yeast health affects flavors in beer.
Subscribe on iTunes to Audio version or Video version or on Google Play
Download the MP3 File – Right Click and Save As to download this mp3 file
[audio:http://traffic.libsyn.com/beersmith/BSHB-164-Yeast-Bamforth.mp3]
Topics in This Week's Episode (53:15)
Today my guest is Dr Charles Bamforth, Professor of Malting and Brewing Science at the University of California at Davis. Charlie specializes in the study of wholesomeness in beer including beer perception, polyphenols, foam stability, oxidation and flavor stability. Charlie is the author of over 20 books on beer including the ASBC Practical Guide to Flavor (Amazon affiliate link) mentioned in this episode.

I do apologize for the video quality this week – we were unable to get a solid video connection.

We discuss Charlie's pending retirement as well as some upcoming courses he is teaching through the University of California at Davis and also in Nottingham.
We talk about how yeast is the primary cause of some 10 of the 16 commonly referenced "off flavors" in beer according to the Beer Judge Certification Program score sheet.
Charlie starts with some off flavors from his book on "Flavors" (linked above) starting with sourness – which he ties closely to beer acidity.
We discuss the current trends in "sour beers" as well as ways to introduce sourness and manage it.
He next moves on to talk about diacetyl and VDKs including pentainedione, as well as their cause and how to reduce them.
Charlie and I discuss esters and how they come from "esterfied" alcohol especially higher order alcohols. We also talk about ways to manage and reduce them.
Next we move on to alcohol itself which can be an off flavor or "feature" in certain high gravity beers.
We discuss acids – in particular excessive fatty acids that can build up in a wort that has not been properly aerated before pitching your yeast.
We finish with a discussion on sulfur and a few other off flavors.
Charlie provides his summary on how to reduce off flavors that are caused by yeast.
Sponsors
Thanks to Chris White and John Blichmann for appearing on the show and also to you for listening!
iTunes Announcements: I launched a new video channel for the BeerSmith podcast on iTunes, so subscribe now! At the moment it will only feature the new widescreen episodes (#75 and up). Older episodes are available on my revamped Youtube channel. Also all of my audio episodes are on iTunes now – so grab the older episodes if you missed any.
Thoughts on the Podcast?
Leave me a comment below or visit our discussion forum to leave a comment in the podcast section there.
Subscribe to the Podcast on iTunes or BeerSmith Radio
You can listen to all of my podcast episodes streaming live around the clock on our BeerSmith Radio online radio station! You can also subscribe to the audio or video using the iTunes links below, or the feed address
And finally, don't forget to subscribe to the blog and my newsletter (or use the links in the sidebar) – to get free weekly articles on home brewing.
Related Beer Brewing Articles from BeerSmith:
Enjoy this Article? You'll Love Our BeerSmith Software!
Don't make another bad batch of beer! Give BeerSmith a try - you'll brew your best beer ever.
Download a free 21 day trial of BeerSmith now