Follow @BeerSmith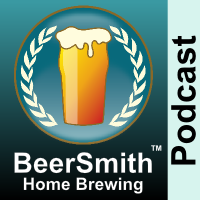 This week Gary Glass, Director of the American Homebrewers Association, joins me to discuss HomebrewCon and the state of home brewing.
Subscribe on iTunes to Audio version or Video version or on Google Play
Download the MP3 File– Right Click and Save As to download this mp3 file
[audio:http://traffic.libsyn.com/beersmith/BSHB-193-AHA-Glass.mp3]
Topics in This Week's Episode (44:29)
This week my guest is Gary Glass. Gary is Director of the American Homebrewer's Association which has approximately 45,000 members.
Gary is here to discuss the state of homebrewing and also the 2019 Homebrewcon coming up in late June.
We start with a discussion of some of the new things happening at the AHA.
Next we move to Homebrewcon which will be held this year in Providence, Rhode Island from 27-29 June 2019.
Gary tells us about this year's keynote speaker as well as some of the 68 seminars that will be presented.
We discuss the National Homebrew Competition which is the world's largest beer competition including over 9000 entries and how the final round of judging is done at Homebrewcon
Gary talks about the industry exhibition and social club that run throughout the conference.
We talk about the kickoff party with Craft breweries on Thursday night as well as my favorite event which is Club Night.
Gary wraps up the Homebrewcon discussion with a bit more about the final National Homebrew Awards presentation on Saturday.
We switch gears to discuss the state of US homebrewing and AHA, including the decline that started around 2014 and seems to be leveling out.
We talk about how the average homebrewer has changed a bit and also how we can all work to promote homebrewing as a hobby.
Gary shares his closing thoughts.
Sponsors
Thanks to Gary Glass for appearing on the show and also to you for listening!
iTunes Announcements: I launched a new video channel for the BeerSmith podcast on iTunes, so subscribe now! At the moment it will only feature the new widescreen episodes (#75 and up). Older episodes are available on my revamped Youtube channel. Also all of my audio episodes are on iTunes now – so grab the older episodes if you missed any.
Thoughts on the Podcast?
Leave me a comment below or visit our discussion forum to leave a comment in the podcast section there.
Subscribe to the Podcast on iTunes or BeerSmith Radio
You can listen to all of my podcast episodes streaming live around the clock on our BeerSmith Radio online radio station! You can also subscribe to the audio or video using the iTunes links below, or the feed address
And finally, don't forget to subscribe to the blog and my newsletter (or use the links in the sidebar) – to get free weekly articles on home brewing.
Related Beer Brewing Articles from BeerSmith:
Enjoy this Article? You'll Love Our BeerSmith Software!
Don't make another bad batch of beer! Give BeerSmith a try - you'll brew your best beer ever.
Download a free 21 day trial of BeerSmith now