Follow @BeerSmith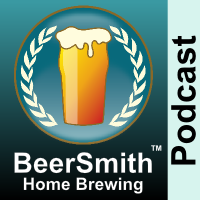 Michael Fairbrother and Berniece Van Der Berg from Moonlight Meadery join me this week to discuss mead.
Subscribe on iTunes to Audio version or Video version or on Google Play
Download the MP3 File– Right Click and Save As to download this mp3 file
[audio:http://traffic.libsyn.com/beersmith/BSHB-197-Mead.mp3]
Topics in This Week's Episode (49:19)
This week I welcome Michael Fairbrother and Berniece Van Der Berg from Moonlight Meadery. Michael is founder and head mead maker at Moonlight Meadery, and Berniece is co-founder and Vice President of Marketing.
We open with a brief discussion of some of the new things going on at Moonlight Meadery.
Michael talks a bit about National Mead Day which was August 3rd, including some of the activities surrounding this day.
Berneice talks a bit about National Honeybee Day coming up on August 17th and we also discuss how important honey bees are.
Michael tells us how he works very closely with honey suppliers and also how they have gone 100% organic with their suppliers
Berniece shares a bit about the US beekeeper industry and how it is still dominated by smaller family beekeepers
We discuss the state of craft mead making and how it has been rapidly expanding the last few years.
We discuss some new innovations at Moonlight meadery and also how Michael's mead making has evolved over his last 9 years in business.
We discuss how the popular meads at Moonlight have evolved over time, as well as the offering of specialty meads.
Michael and Berniece give their thoughts on where they think the mead industry is going next as well as closing thoughts on craft mead.
Sponsors
Thanks to Michael Fairbrother and Berniece Van Der Berg for appearing on the show and also to you for listening!
iTunes Announcements: I launched a new video channel for the BeerSmith podcast on iTunes, so subscribe now! At the moment it will only feature the new widescreen episodes (#75 and up). Older episodes are available on my revamped Youtube channel. Also all of my audio episodes are on iTunes now – so grab the older episodes if you missed any.
Thoughts on the Podcast?
Leave me a comment below or visit our discussion forum to leave a comment in the podcast section there.
Subscribe to the Podcast on iTunes or BeerSmith Radio
You can listen to all of my podcast episodes streaming live around the clock on our BeerSmith Radio online radio station! You can also subscribe to the audio or video using the iTunes links below, or the feed address
And finally, don't forget to subscribe to the blog and my newsletter (or use the links in the sidebar) – to get free weekly articles on home brewing.
Related Beer Brewing Articles from BeerSmith:
Enjoy this Article? You'll Love Our BeerSmith Software!
Don't make another bad batch of beer! Give BeerSmith a try - you'll brew your best beer ever.
Download a free 21 day trial of BeerSmith now