Follow @BeerSmith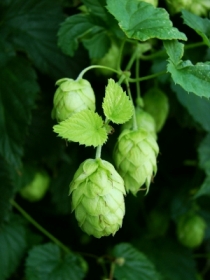 Last week in Part 1 of this series we took a look at dry hopping beer, and how dry hopping can enhance the flavor and aroma of your home brewed beer. We also discussed why pellet hops work best, and how shorter contact times and higher temperatures can help in dry hopping.
This week I take a look at when to add dry hops. Surprisingly there is a lot of variation here both in theory and practice. Traditionally, dry hops were added to the secondary shortly before bottling, and in the case of some English ales, often left in the keg (keg hopping), in the theory that the hop aroma would be preserved best by quickly bottling the aroma up before it could escape.
Hop oils are indeed volatile, and can boil off at temperatures well below boiling. However, none of the major aroma oils have a boiling point anywhere near fermentation or room temperature, so you typically will not lose these oils if you don't bottle immediately after dry hopping.
Hop compounds in general do decay with time, heat and from light, however, so you don't want to dry hop and leave your beer sitting around too long. So in many ways, the average home brewer can't really go wrong adding hops 2-3 days before bottling. The only disadvantage is that some hop material may remain suspended in the beer until it later falls out and add to the sediment in the bottles.
Many commercial brewers will add their dry hops shortly after primary fermentation is complete, and leave the hops in their beer for a few days at fermentation temperature before cold crashing the beer. The advantage of this method is that you do get good hop oil transfer, and cold crashing the beer will allow any excess hop material to fall out of the beer.
Finally, some brewers have experimented with adding dry hops during active fermentation. One school of thought says this is inefficient as the CO2 bubbles during active fermentation will "scrub" the aroma from the hops and be lost. However, this is too simplistic a view, since hop aroma comes from the hop aroma oils suspended in the beer and is not merely some "gas" to be scrubbed out by CO2.
What does happen during active fermentation is that you often get a slightly different flavor profile than dry hopping at a later time. The precise mechanism is not well understood, but it is clear that the chemical processes during active fermentation interacts with the hop profile and produces an entirely different overall effect. Commercial and home brewers have just started to play with this method, but it is an interesting option for those willing to experiment.
So the three options for dry hopping include: dry hopping right after fermentation, dry hopping shortly before bottling and dry hopping during active fermentation. A home brewer really can't go wrong with either of the first two options. More adventurous brewers might experiment with dry hops during active fermentation – which can produce some interesting results.
Do you have thoughts on dry hopping? Leave a commend below.
Thanks for joining me on the BeerSmith Home Brewing Blog. Please sign up for the newsletter or subscribe to my podcast for more beer brewing goodness.
Related Beer Brewing Articles from BeerSmith:
Enjoy this Article? You'll Love Our BeerSmith Software!
Don't make another bad batch of beer! Give BeerSmith a try - you'll brew your best beer ever.
Download a free 21 day trial of BeerSmith now