Follow @BeerSmith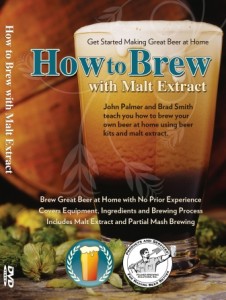 John Palmer and I have been working for several months on two home brewing DVDs – one on malt extract and one on all grain brewing. It has been a huge project – planning, scripting and shooting literally thousands of clips of the brewing process in full HD in a professional package. We intend to release both on DVD, Amazon Video and also in an online form.
How to Brew with Malt Extract – Coming July 2014
The first video in the series is oriented towards new brewers getting started with home brewing. The video covers how to get started including which equipment to purchase, what's included with malt extract kits and brewing the beer from start to finish. The introductory price will be $19.95 and regular price will be $24.95.
Digital Version Preorder Open on Vimeo – Rent or Buy Here
How to select Equipment and Kits/Ingredients for Brewing
Step by step instructions for brewing with extract and specialty grains
Detailed video on brewing, cooling, fermenting, and bottling your beer
Covers Judging and Improving your Beer
Bonus videos on Partial Mash, Yeast Starters, Late Extract Additions and Water
How to Brew with Malt Extract – One Minute Trailer:
How to Brew All Grain – Sept 2014 Release
The all grain video is intended for intermediate to advanced brewers looking to step up from malt extract brewing to brewing directly from malted barley grains. This video covers how to brew all grain beer from start to finish including equipment, ingredients, mashing, brewing, fermentation and much more… Pricing and specific release date has not been set yet.
Selecting the right equipment and ingredients for all grain brewing
Conventional mashing and lautering as well as "Brew in a bag" techniques
Preparing grains, brewing, fermenting, bottling and kegging your beer
Judging and improving all grain beer
Bonus footage on water, yeast starters, and designing beer recipes
Release Details
Both DVDs will be available on DVD format, and also on Amazon Instant Video
We will also have the option to purchase it for online viewing from a web site
Wholesale inquiries for the physical DVD are welcome – see our wholesale page for details
I'll be posting more information as we get closer to the launch
Related Beer Brewing Articles from BeerSmith:
Enjoy this Article? You'll Love Our BeerSmith Software!
Don't make another bad batch of beer! Give BeerSmith a try - you'll brew your best beer ever.
Download a free 21 day trial of BeerSmith now