Follow @BeerSmith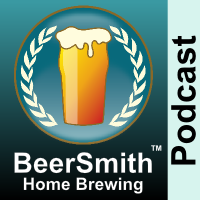 Randy Mosher joins me this week to discuss what different malts and grains bring to your home brewed beer. He gives us an amazing tour of the most popular malts used in home brewing and explains the flavors they really bring to the beer.
Download the MP3 File – Right Click and Save As to download this mp3 file
[audio:http://traffic.libsyn.com/beersmith/BSHB-81-Mosher-Grains.mp3]

Topics in This Week's Episode (40:21)
Randy Mosher from RadicalBrewing.com is my guest this week. Randy is the author of Radical Brewing, and Tasting beer (full disclosure: Amazon Affiliate Book links) and is also working a comprehensive new book on brewing.
This week's episode is sponsored by Craft Beer and Brewing Magazine – sign up today for your subscription!
Randy tells us a bit about his new book "Mastering Homebrew" which will be released this fall.
We discuss Randy's overall approach to malt, malting and why color and flavor are not the same
Randy talks about base malts and what they bring to the beer, as well as flavor malts, color malts and base malts.
We start by discussing his base malt blocks including Pilsner, Pale malt, Munich and Vienna malts. He also explains why mild malt is a very attractive malt for many darker styles.
We talk about cookie, bready, malty and other malt flavors
Randy discusses adjunct malts. We next get into the light caramel/crystal malts like Carapils and dextrine malts, and how many caramel malts are very intense and potent in beers
We walk through the range of Caramel malts and why darker caramel malts should not be used in barley wines and other long age beers, and also why very dark crystal malts should be used very sparingly since the flavor gets more intense and acrid
We discuss why there are not many malts made in the range of 100-350L color, largely because they have a poor flavor (cigarette ash)
He also explains why Chocolate malt really does not add a chocolate flavor – but has an acrid flavor to it if overused
We discuss the use of Brown malts in historic porters as well as how porter has changed over the years
Randy discusses color adjustment malts and how to use middle colored malts
Finally we talk about adjuncts such as corn, rice, wheat and sugar adjuncts and what they bring to the beer
We go into methods for understanding and knowing what your ingredients really taste like
Randy shares his thoughts on SMASH (single malt) and dual malt beer brewing
Randy tells us about his other upcoming book "A Beer for All Seasons"
Thanks to Randy Mosher for appearing on the show and also to you for listening!
iTunes Announcements: I launched a new video channel for the BeerSmith podcast on iTunes, so subscribe now! At the moment it will only feature the new widescreen episodes (#75 and up). Older episodes are available on my revamped Youtube channel. Also all 81 audio episodes are on iTunes now – so grab the older episodes if you missed any.
Thoughts on the Podcast?
Leave me a comment below or visit our discussion forum to leave a comment in the podcast section there.
Subscribe to the Podcast on iTunes or BeerSmith Radio
You can listen to all of my podcast episodes streaming live around the clock on our BeerSmith Radio online radio station! You can also subscribe to the audio or video using the iTunes links below, or the feed address
And finally, don't forget to subscribe to the blog and my newsletter (or use the links in the sidebar) – to get free weekly articles on home brewing.
Related Beer Brewing Articles from BeerSmith:
Enjoy this Article? You'll Love Our BeerSmith Software!
Don't make another bad batch of beer! Give BeerSmith a try - you'll brew your best beer ever.
Download a free 21 day trial of BeerSmith now