Follow @BeerSmith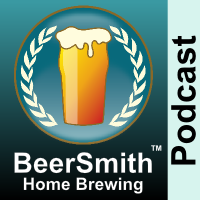 Chris White, the President of White Labs yeast joins me today to talk about his new "Pure Pitch" technology for producing and distributing beer yeast. He's replacing the entire White Labs line of vials with yeast distributed in the same container it is grown in. The new technology, 5 years in the making, will hit home brew stores in the next few months.
Subscribe on iTunes to Audio version or Video version
Download the MP3 File – Right Click and Save As to download this mp3 file
[audio:http://traffic.libsyn.com/beersmith/BSHB-86-White-Labs.mp3]

Topics in This Week's Episode (32:03)
Dr Chris White, the founder and President of White Labs yeast joins me this week to discuss his new "Pure Pitch" technology for growing and distributing yeast. Chris is also the co-author of Yeast, a Practical Guide (Full disclosure – Amaazon Affiliate Link)
We start with a discussion about his new flex cell technology and how it is different from the way they previously grew yeast.
We talk about how yeast can now be produced in the same package it is distributed in
Chris explains why the new process uses a lot less water and is better for the environment with less waste
We talk about how White Labs will be replacing the vial packaging for home brewers with their new flexible packages with a window in it
Chris tells us the size of the new packaging and we discuss how it may actually last longer with better viability
I ask Chris how to use the new packaging
We briefly discuss yeast starters and their role in home brewing
Chris tells us a bit about how the new packaging and yeast has been received by the craft beer market – where pure pitch is already being used
We talk about how the new packages will start to be available in home brew stores starting this fall
Chris highlights a few select yeast strains for home brewers
Chris provides a few final tips to home brewers
Thanks to Chris White for appearing on the show and also to you for listening!
iTunes Announcements: I launched a new video channel for the BeerSmith podcast on iTunes, so subscribe now! At the moment it will only feature the new widescreen episodes (#75 and up). Older episodes are available on my revamped Youtube channel. Also all 81 audio episodes are on iTunes now – so grab the older episodes if you missed any.
Thoughts on the Podcast?
Leave me a comment below or visit our discussion forum to leave a comment in the podcast section there.
Subscribe to the Podcast on iTunes or BeerSmith Radio
You can listen to all of my podcast episodes streaming live around the clock on our BeerSmith Radio online radio station! You can also subscribe to the audio or video using the iTunes links below, or the feed address
And finally, don't forget to subscribe to the blog and my newsletter (or use the links in the sidebar) – to get free weekly articles on home brewing.
Related Beer Brewing Articles from BeerSmith:
Enjoy this Article? You'll Love Our BeerSmith Software!
Don't make another bad batch of beer! Give BeerSmith a try - you'll brew your best beer ever.
Download a free 21 day trial of BeerSmith now