Follow @BeerSmith
Chris White joins me this week to discuss how White Labs produces yeast for commercial brewers and home brewing. We discuss everything from his yeast bank to production and packaging.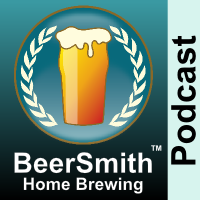 Subscribe on iTunes to Audio version or Video version or on Google Play
Download the MP3 File– Right Click and Save As to download this mp3 file.
Topics in This Week's Episode (53:36)
This week I'm pleased to have Dr Chris White, President and founder of White Labs as my guest. White labs is one of the largest producers of brewing yeast worldwide, and Chris oversees operations at two locations in the US and one in Europe.
We start with a brief discussion of the COVID-19 virus and how it has impacted commercial brewing and Chris' yeast production.
Chris starts by explaining the white lab yeast bank which is stored at cryogenic temperatures to assure there is no change to the core yeast cells.
We talk about how cells drawn from the yeast bank are grown in the laboratory up to useful sizes and also how purity is maintained along the way.
Chris explains how they use 10x the volume of sterilized wort every two days to increase each generation by approximately 5-6x until they reach a reasonable starter size.
We talk a bit about his yeast production equipment which at one time was stainless steel but now uses a polymer film much like that used in the pharmacy industry.
Chris discusses how low gravity wort is used to grow yeast, and also how his wort is sterilized in an autoclave to assure purity.
We talk about the critical importance of yeast packaging as well as some of the advantages of White labs pure pitch packaging.
Chris explains how he harvests and concentrates yeast for packaging as well as the difficult challenge of separating the trub.
We discuss what the commercial packaging looks like compared to the smaller homebrew packets. Apparently the 2 liter packs are the most popular commercial size.
Chris gives us his closing thoughts on producing yeast.
Sponsors
Thanks to Chris White for appearing on the show and also to you for listening!
iTunes Announcements: I launched a new video channel for the BeerSmith podcast on iTunes, so subscribe now! At the moment it will only feature the new widescreen episodes (#75 and up). Older episodes are available on my revamped Youtube channel. Also all of my audio episodes are on iTunes now – so grab the older episodes if you missed any.
Thoughts on the Podcast?
Leave me a comment below or visit our discussion forum to leave a comment in the podcast section there.
Subscribe to the Podcast on iTunes or BeerSmith Radio
You can listen to all of my podcast episodes streaming live around the clock on our BeerSmith Radio online radio station! You can also subscribe to the audio or video using the iTunes links below, or the feed address
And finally, don't forget to subscribe to the blog and my newsletter (or use the links in the sidebar) – to get free weekly articles on home brewing.
Related Beer Brewing Articles from BeerSmith:
Enjoy this Article? You'll Love Our BeerSmith Software!
Don't make another bad batch of beer! Give BeerSmith a try - you'll brew your best beer ever.
Download a free 21 day trial of BeerSmith now