Follow @BeerSmith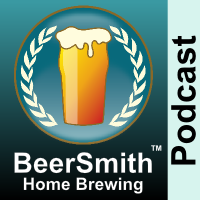 John Mallett, the Director of Operations at Bell's Brewing joins me to talk about his new book "Malt: A Practical Guide from Field to Brewhouse" This is the final book in the four part Brewing Element series from Brewer's Publications. John discusses varieties of malt, the malting process and how various malts are used in beer brewing.
Subscribe on iTunes to Audio version or Video version
Download the MP3 File – Right Click and Save As to download this mp3 file
[audio:http://traffic.libsyn.com/beersmith/BSHB-94-Malt-Mallett.mp3]

Topics in This Week's Episode (49:00)
John Mallett is the Director of Operations at Bell's Brewery. John has just released his new book Malt: A Practical Guide from Field to Brewhouse (Amazon affiliate link) which is the last in the four part brewing element series.
Thank you to our sponsor Craft Beer and Brewing Magazine who is still offering a 20% discount with your subscription when you use the offer code beersmith when you purchase. Also thanks to the AHA – they are running a Gift Membership promotion from now until 31 December 2014, which includes a free book or video along with your membership card you can use for yourself or give it to a fellow brewer.
Also check out the new DVDs John Palmer and I filmed – How to Brew with Malt Extract and How to Brew All Grain are both available now and you can also find my BeerSmith software on CD or BeerSmith Mobile which great gifts for the holiday or New Year!
We start by discussing some of the new projects at Bell's Brewery which is a very popular craft brewery.
John tells us about finishing up his new book on Malt – which was released just a few days before we recorded this episode.
We talk about why malt is the "Soul of beer"
John shares some thoughts on the history of malting and how malting may have come about many thousands of years ago
We discuss the malting process and how a malt-house takes raw barley and malts and kilns it
John explains how kilning and roasting is done to create pale malts as well as many specialty malts
We talk about how Caramel malt is handled differently than roasted malt – and the green malt is actually mashed within the kernal
We cover some additional specialty malts such as unmalted grains, flaked/torrified grains and dehusked grains
John shares his thoughts on malts and recipe formulation – including the importance of tasting malts
We discuss how malt extract is made – by boiling under a vacuum at low temperature
John talks a bit about mash chemistry including alpha and beta amylase and how they work to create fermentable sugars
We briefly discuss storage of grains and milling grains
John shares his closing thoughts on malt!
Thanks to John Mallett for appearing on the show and also to you for listening!
iTunes Announcements: I launched a new video channel for the BeerSmith podcast on iTunes, so subscribe now! At the moment it will only feature the new widescreen episodes (#75 and up). Older episodes are available on my revamped Youtube channel. Also all 81 audio episodes are on iTunes now – so grab the older episodes if you missed any.
Thoughts on the Podcast?
Leave me a comment below or visit our discussion forum to leave a comment in the podcast section there.
Subscribe to the Podcast on iTunes or BeerSmith Radio
You can listen to all of my podcast episodes streaming live around the clock on our BeerSmith Radio online radio station! You can also subscribe to the audio or video using the iTunes links below, or the feed address
And finally, don't forget to subscribe to the blog and my newsletter (or use the links in the sidebar) – to get free weekly articles on home brewing.
Related Beer Brewing Articles from BeerSmith:
Enjoy this Article? You'll Love Our BeerSmith Software!
Don't make another bad batch of beer! Give BeerSmith a try - you'll brew your best beer ever.
Download a free 21 day trial of BeerSmith now