Follow @BeerSmith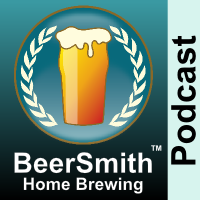 Michael Dawson, former cohost of Brewing TV joins me this week to discuss brewing the perfect sour beer. Michael shares some amazing tips for quickly brewing a Berliner Weisse as well as Lambic in this special episode recorded at the National Homebrew Conference in San Diego.
Subscribe on iTunes to Audio version or Video version
Download the MP3 File – Right Click and Save As to download this mp3 file
[audio:http://traffic.libsyn.com/beersmith/BSHB-108-Sour-Dawson.mp3]

Topics in This Week's Episode (41:52)
Michael Dawson, former cohost of Brewing TV and brand manager for Wyeast Labs joins me this week to discuss how to brew a variety of sour beers.
This week's show was recorded on the noisy National Homebrew Conference show floor in San Diego, so there is some crowd noise in the background
Thank you to our sponsor Craft Beer and Brewing Magazine who is still offering a 15% discount with your subscription or other items when you use the new offer code beersmith2015 when you purchase.
Also check out BeerSmith, BeerSmith Mobile software and the new DVDs John Palmer and I filmed – How to Brew with Malt Extract and How to Brew All Grain are available now. You can subscribe to the BeerSmith newsletter for free to get some great articles on home brewing.
Michael starts with his experience with sour beer brewing and an overview of many of the sour beer styles people may be familiar with.
We share some commercial examples and some of the major methods for brewing sour beers.
We discuss using a sour mash to make beer and how that can be an effective technique for adding a sour twang to your stout.
Michael covers some of the bugs used in brewing sour beers including Lactobacillus, Pedio and Brettanomyces
We talk about the proper time to add bugs to your beer and some fermentation techniques
Michael walks us through brewing a Berliner Weisse in great detail including tips to brew this beer quickly by adding the Lacto before fermentation
He also covers brewing a Lambic in detail including techniques used and aging this rare beer
He provides some closing tips on sour beer brewing
We discuss some of the new products coming out of Wyeast labs, and Michael's closing thoughts
Thanks to Michael Dawson for appearing on the show and also to you for listening!
iTunes Announcements: I launched a new video channel for the BeerSmith podcast on iTunes, so subscribe now! At the moment it will only feature the new widescreen episodes (#75 and up). Older episodes are available on my revamped Youtube channel. Also all 81 audio episodes are on iTunes now – so grab the older episodes if you missed any.
Thoughts on the Podcast?
Leave me a comment below or visit our discussion forum to leave a comment in the podcast section there.
Subscribe to the Podcast on iTunes or BeerSmith Radio
You can listen to all of my podcast episodes streaming live around the clock on our BeerSmith Radio online radio station! You can also subscribe to the audio or video using the iTunes links below, or the feed address
And finally, don't forget to subscribe to the blog and my newsletter (or use the links in the sidebar) – to get free weekly articles on home brewing.
Related Beer Brewing Articles from BeerSmith:
Enjoy this Article? You'll Love Our BeerSmith Software!
Don't make another bad batch of beer! Give BeerSmith a try - you'll brew your best beer ever.
Download a free 21 day trial of BeerSmith now