Follow @BeerSmith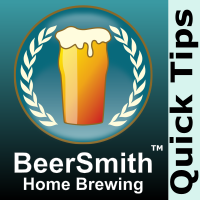 When brewing high gravity (big) beers, it is important to adjust your brewhouse efficiency down a bit. You simply won't get the same number of gravity points from a pound or kilogram of malt on a "big" beer.
BeerSmith Quick Brewing and Software tips are some short 1-3 minute video clips I've put together for brewers. For more clips visit my blog at BeerSmith.com/Blog or subscribe to my Youtube Channel: MrBeerSmith. You might also enjoy my newslettter which has more detailed weekly articles on brewing.

Thanks for joining me on the BeerSmith Home Brewing Blog. Be sure to sign up for my newsletter or my podcast (also on itunes…and youtube…and streaming radio station) for more great tips on homebrewing. Also check out the How to Brew Video series I shot with John Palmer if you want to learn more about all grain brewing.
Related Beer Brewing Articles from BeerSmith:
Enjoy this Article? You'll Love Our BeerSmith Software!
Don't make another bad batch of beer! Give BeerSmith a try - you'll brew your best beer ever.
Download a free 21 day trial of BeerSmith now