Follow @BeerSmith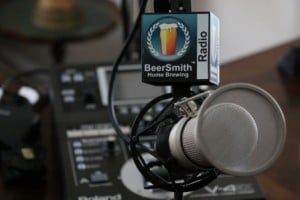 This week Ken Schramm from Schramm's Meadery joins me to discuss big sweet fruity meads and melomels. Ken is a founder of the Mazer Cup, author of the book The Compleat Meadmaker, nationally award winning mead maker, and founder of Schramm's Meadery near Detroit.
Subscribe on iTunes to Audio version or Video version or on Google Play
Download the MP3 File – Right Click and Save As to download this mp3 file
[audio:http://traffic.libsyn.com/beersmith/BSHB-143-Schramm.mp3]

Topics in This Week's Episode (58:42)
Today my guest is Ken Schramm from Schramm's Meadery. Ken has been making mead since 1987 and is a founder of the Mazer Cup who has won many awards for his meads at the national level. Ken is also author of the book The Compleat Meadmaker (Amazon affiliate link) and now runs a meadery that arguably makes some of the finest meads in the world from fresh honey and whole fruits.
Ken shares a bit about his involvement in the resurgence of mead making in the US after it was again legalized, as well as the founding of the Mazer Cup international mead competition.
He talks about his book on mead making called "The Compleat Meadmaker"
Finally Ken shares his journey from television production to professional meadmaking and the launch of Schramm's Meadery which happened about three years ago.
We discuss the meads Ken specializes in which are primarily big sweet melomels (fruit meads) starting in the 1.140 or even much higher range of gravity.
Ken shares how he manages to get really tart fruits like black currants to counterpoint the residual sweetness in honey to make some of his amazing meads.
We discuss his headline mead "Heart of Darkness" which is a unique combination of tart cherries, black currants and raspberries.
Some of his other unique tart-sweet meads include his blackberry and black and red currant meads which are very difficult to properly balance.
We talk about working with almost equal quantities of fruit and honey as well as some of the special challenges that come with making mead using whole fruits.
Ken provides some tips for home brewers working with real fruit, including its use in the primary or secondary.
We discuss nutrient schedules which play a critical role in modern mead making, and Ken's preference for the older DAP nutrients over modern additives like Fermaid-K and Fermaid-O.
Ken shares his thoughts on degassing which also play an important role during mead fermentation
He shares his closing thoughts and advice for home mead makers.
Sponsors
Thanks to Ken Schramm for appearing on the show and also to you for listening!
iTunes Announcements: I launched a new video channel for the BeerSmith podcast on iTunes, so subscribe now! At the moment it will only feature the new widescreen episodes (#75 and up). Older episodes are available on my revamped Youtube channel. Also all of my audio episodes are on iTunes now – so grab the older episodes if you missed any.
Thoughts on the Podcast?
Leave me a comment below or visit our discussion forum to leave a comment in the podcast section there.
Subscribe to the Podcast on iTunes or BeerSmith Radio
You can listen to all of my podcast episodes streaming live around the clock on our BeerSmith Radio online radio station! You can also subscribe to the audio or video using the iTunes links below, or the feed address
And finally, don't forget to subscribe to the blog and my newsletter (or use the links in the sidebar) – to get free weekly articles on home brewing.
Related Beer Brewing Articles from BeerSmith:
Enjoy this Article? You'll Love Our BeerSmith Software!
Don't make another bad batch of beer! Give BeerSmith a try - you'll brew your best beer ever.
Download a free 21 day trial of BeerSmith now