Follow @BeerSmith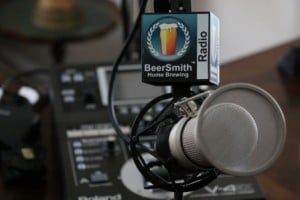 Erin James joins me this week to discuss her new book "Tasting Cider", the recent surge in craft cider making, styles of cider as well as cider cocktails and food pairings.
Subscribe on iTunes to Audio version or Video version or on Google Play
Download the MP3 File – Right Click and Save As to download this mp3 file
[audio:http://traffic.libsyn.com/beersmith/BSHB-154-Cider.mp3]
Topics in This Week's Episode (39:31)
Today my guest is Erin James, author of the new book Tasting Cider (Amazon affiliate link). Erin is also an editor at CiderCraft Magazine and Sip Northwest Magazine.
We start with a short overview of Erin's new book called "Tasting Cider"
She gives her perspective on the explosion in craft cider making that has happened over the past few years.
We discuss a bit about the history of cider, including the fact that apples are not native to America (except crab-apples) and discuss how apples were brought over on the Mayflower by the Pilgrims.
Erin tells us a bit about how prohibition and also the expanding availability of lagers almost made commercial ciders extinct for some 80-90 years.
We talk about basic definitions for ciders including dry to sweet ciders.
Erin shares a bit about the cider making process.
We discuss how the apples themselves drive the flavor of the finished cider including the use of fairly rare "cider apple" varieties that are high in tannins and acidity.
Erin talks about various cider styles including hopped, spiced, single variety, and barrel aged ciders.
We briefly discuss Perry which is an alcoholic beverage made from pears.
She describes the section in her book on cider cocktails, how cider goes very well with whisky and provides some examples.
We discuss food pairing and which food flavors go best with cider.
Erin shares her thoughts on what an average beer brewer can learn from sampling or making cider.
We discuss where the cider industry is headed as well as briefly talk about the Cider Craft magazine which she is an editor for.
Sponsors
Thanks to Erin James for appearing on the show and also to you for listening!
iTunes Announcements: I launched a new video channel for the BeerSmith podcast on iTunes, so subscribe now! At the moment it will only feature the new widescreen episodes (#75 and up). Older episodes are available on my revamped Youtube channel. Also all of my audio episodes are on iTunes now – so grab the older episodes if you missed any.
Thoughts on the Podcast?
Leave me a comment below or visit our discussion forum to leave a comment in the podcast section there.
Subscribe to the Podcast on iTunes or BeerSmith Radio
You can listen to all of my podcast episodes streaming live around the clock on our BeerSmith Radio online radio station! You can also subscribe to the audio or video using the iTunes links below, or the feed address
And finally, don't forget to subscribe to the blog and my newsletter (or use the links in the sidebar) – to get free weekly articles on home brewing.
Related Beer Brewing Articles from BeerSmith:
Enjoy this Article? You'll Love Our BeerSmith Software!
Don't make another bad batch of beer! Give BeerSmith a try - you'll brew your best beer ever.
Download a free 21 day trial of BeerSmith now