Follow @BeerSmith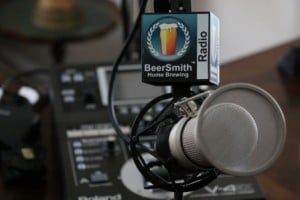 Jennifer Talley joins me to discuss her new book "Session Beers: Brewing for Flavor and Balance". Jennifer is a professional brewer with over 20 GABF and World Beer Cup awards.
Subscribe on iTunes to Audio version or Video version or on Google Play
Download the MP3 File – Right Click and Save As to download this mp3 file
[audio:http://traffic.libsyn.com/beersmith/BSHB-155-Session-Beer.mp3]

Topics in This Week's Episode (36:23)
Today my guest is Jennifer Talley, author of the new book Session Beers: Brewing for Flavor and Balance (Amazon affiliate link) from Brewers Publications. Jennifer is a professional brewer who worked at Squatters Pub, Red Hook, Russian River and now Auburn Alehouse. She has more than 20 awards from the GABF and World Beer Cup.
We start with a bit about Jennifer's new book on Session Beers.
Jennifer explains what a session beer really is and how it is defined.
We talk about the history of session beers, which are many hundreds of years old and certainly predate the use of the term "Session Beers" which only started in about 1980.
She explains the important role Europe played in the development of many session styles including the UK, Germany, and Belgium.
We talk about some of the challenges in trying to develop a light refreshing session beer that is also balanced and flavorful.
Jennifer shares a few tips from the book on formulating and brewing session beers.
We talk about modern interpretations of the session beer.
Jennifer shares some thoughts on sensory analysis of session beers.
We talk about the second half of her book which includes recipes from a significant number of commercial breweries.
She also shares how she scaled down commercial recipes to homebrew size for the book.
We talk about how she decided which recipes to include and also her experience as a commercial brewer.
Jennifer provides some closing thoughts on brewing session beers.
Sponsors
Thanks to Jennifer Talley for appearing on the show and also to you for listening!
iTunes Announcements: I launched a new video channel for the BeerSmith podcast on iTunes, so subscribe now! At the moment it will only feature the new widescreen episodes (#75 and up). Older episodes are available on my revamped Youtube channel. Also all of my audio episodes are on iTunes now – so grab the older episodes if you missed any.
Thoughts on the Podcast?
Leave me a comment below or visit our discussion forum to leave a comment in the podcast section there.
Subscribe to the Podcast on iTunes or BeerSmith Radio
You can listen to all of my podcast episodes streaming live around the clock on our BeerSmith Radio online radio station! You can also subscribe to the audio or video using the iTunes links below, or the feed address
And finally, don't forget to subscribe to the blog and my newsletter (or use the links in the sidebar) – to get free weekly articles on home brewing.
Related Beer Brewing Articles from BeerSmith:
Enjoy this Article? You'll Love Our BeerSmith Software!
Don't make another bad batch of beer! Give BeerSmith a try - you'll brew your best beer ever.
Download a free 21 day trial of BeerSmith now