Follow @BeerSmith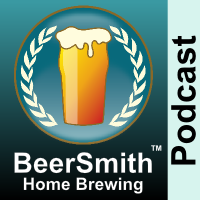 This week Steve Piatz joins me to discuss how to make a low gravity session mead including mead nutrients, backsweetening and how to spice or accent your mead. Using modern techniques, you can make a great session mead in as little as a few weeks.
Subscribe on iTunes to Audio version or Video version or on Google Play
Download the MP3 File – Right Click and Save As to download this mp3 file
[audio:http://traffic.libsyn.com/beersmith/BSHB-175-Mead.mp3]
Topics in This Week's Episode (38:57)
Today my guest is Steve Piatz. Steve is the 2008 Mead Maker of the Year and also the author of the book The Complete Guide to Mead Making (Amazon affiliate link).
We start with a brief update of some of Steve's mead making activities since his last podcast.
Steve explains what a "session mead" is and how it is different than other types of mead.
We discuss sweet vs dry finish, and agree that most meads need some sweetness (i.e are not best totally dry) or spices to balance them.
We talk about a variety of methods for finishing a mead sweet including cold crashing, halting fermentation through filtration and backsweetening.
Steve explains applying potassium sulfite and sulfate at the end of fermentation and also how to backsweeten.
We discuss methods for adding fruit, spices, hops and other flavors, including why it is best to blend these in at the end.
We talk a bit about the importance of nutrients, aeration and especially regular degassing during active fermentation
Steve explains how you can ferment and finish a session mead in just a few weeks using modern nutrients and degassing
He speaks for a few minutes at the end about his book on mead making (link above).
Sponsors
Thanks to Robert Keifer for appearing on the show and also to you for listening!
iTunes Announcements: I launched a new video channel for the BeerSmith podcast on iTunes, so subscribe now! At the moment it will only feature the new widescreen episodes (#75 and up). Older episodes are available on my revamped Youtube channel. Also all of my audio episodes are on iTunes now – so grab the older episodes if you missed any.
Thoughts on the Podcast?
Leave me a comment below or visit our discussion forum to leave a comment in the podcast section there.
Subscribe to the Podcast on iTunes or BeerSmith Radio
You can listen to all of my podcast episodes streaming live around the clock on our BeerSmith Radio online radio station! You can also subscribe to the audio or video using the iTunes links below, or the feed address
And finally, don't forget to subscribe to the blog and my newsletter (or use the links in the sidebar) – to get free weekly articles on home brewing.
Related Beer Brewing Articles from BeerSmith:
Enjoy this Article? You'll Love Our BeerSmith Software!
Don't make another bad batch of beer! Give BeerSmith a try - you'll brew your best beer ever.
Download a free 21 day trial of BeerSmith now