Follow @BeerSmith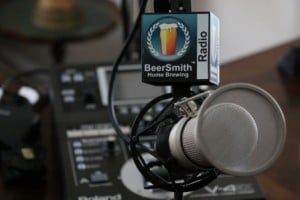 Tomme Arthur, the Director of Operations at The Lost Abbey, joins me this week to discuss Belgian beer styles, producing high end craft beers, sours, barrel aging and more.
Subscribe on iTunes to Audio version or Video version or on Google Play
Download the MP3 File – Right Click and Save As to download this mp3 file
[audio:http://traffic.libsyn.com/beersmith/BSHB-160-Lost-Abbey.mp3]
Topics in This Week's Episode (44:24)
Today my guest is Tomme Arthur from The Lost Abbey. Tomme is co-founder and Director of Brewing Operations. Tomme holds an English degree from Northern Arizona University and has worked at a number of breweries as well as White Labs and Pizza Port, which eventually led to the founding of The Lost Abbey in 2006. He holds dozens of medals including GABF, World Beer Cup, Regional and local awards.
We talk a bit about our experience at the Craft Beer and Brewing retreat where we met.
Tomme tells us how is love of home brewing evolved into a career in professional brewing.
We discuss the story behind Lost Abbey which evolved from Tomme's 10 years working at Pizza Port.
Tomme explains the philosophy behind the "celebration" bottling and distribution in 750 ml bottles
We talk about Lost Abbey's year round lineup of beers.
He shares why many of Lost Abbey's beers don't fit neatly into a single beer style category.
We discuss the challenges of barrel aging, souring, barrel souring and making complex specialty beers on a commercial scale.
He shares his thoughts on barrel aging including the barrels they use and methods.
We discuss his "Gooze" beer as well as Framboise – two difficult styles to produce.
Tomme shares thoughts aobut his seasonal lineup as well as how they rotate production from season to season.
We talk about "Red Poppy" which is a celebration of red cherries as well as the complexities of working with fruit.
I ask Tomme how he decides which beers to produce for their commercial lineup as well as how new beer development is done.
We talk about his most difficult beer to produce as well as his personal favorite.
Tomme finishes with his thoughts on crafting beers that are truly unique.
Sponsors
Thanks to Tomme Arthur for appearing on the show and also to you for listening!
iTunes Announcements: I launched a new video channel for the BeerSmith podcast on iTunes, so subscribe now! At the moment it will only feature the new widescreen episodes (#75 and up). Older episodes are available on my revamped Youtube channel. Also all of my audio episodes are on iTunes now – so grab the older episodes if you missed any.
Thoughts on the Podcast?
Leave me a comment below or visit our discussion forum to leave a comment in the podcast section there.
Subscribe to the Podcast on iTunes or BeerSmith Radio
You can listen to all of my podcast episodes streaming live around the clock on our BeerSmith Radio online radio station! You can also subscribe to the audio or video using the iTunes links below, or the feed address
And finally, don't forget to subscribe to the blog and my newsletter (or use the links in the sidebar) – to get free weekly articles on home brewing.
Related Beer Brewing Articles from BeerSmith:
Enjoy this Article? You'll Love Our BeerSmith Software!
Don't make another bad batch of beer! Give BeerSmith a try - you'll brew your best beer ever.
Download a free 21 day trial of BeerSmith now