Follow @BeerSmith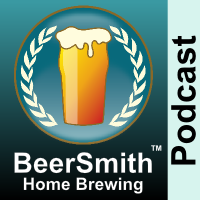 This week Randy Mosher joins me to discuss cutting edge research into beer sensory perception and how our brain uniquely perceives and distorts the flavor, aroma and taste of beer.
Subscribe on iTunes to Audio version or Video version or on Google Play
Download the MP3 File – Right Click and Save As to download this mp3 file
[audio:http://traffic.libsyn.com/beersmith/BSHB-182-Sensory.mp3]
Topics in This Week's Episode (55:34)
Today my guest is Randy Mosher. Randy is author of many of my favorite home brewing books including Mastering Homebrew, Radical Brewing and Tasting Beer (Amazon affiliate links). He is also a certified beer judge and faculty member at the Siebel institute as well as partner in two Chicago area breweries: Five Rabbit and Forbidden Root.
Randy explains why each person's perception of beer really is an individual experience
We discuss some of the factors affecting taste and smell as well as the fact that an average person can distinguish a huge number of flavors.
Randy explains some of the complexities of taste even though it is probably one of our simplest senses.
We discuss the basic taste senses as well as why bitterness is special
He explains the nose and how it is a much more sophisticated device.
We talk about how our brain actually processes taste and aroma as well as memory to get something we perceive as flavors.
Randy also discusses how our mental state, food history and "flavor warning" patterns all play a role in the processing of flavor patterns.
We discuss how the sights, sounds, mood, foods we're eating and other external factors also play a role in beer flavor.
Randy shares his thoughts on judging beer including ways to make the process easier.
We talk about "The Dopamine Rush of Whales".
Randy shares some final tips on tasting beer.
Sponsors
Thanks to Randy Mosher for appearing on the show and also to you for listening!
iTunes Announcements: I launched a new video channel for the BeerSmith podcast on iTunes, so subscribe now! At the moment it will only feature the new widescreen episodes (#75 and up). Older episodes are available on my revamped Youtube channel. Also all of my audio episodes are on iTunes now – so grab the older episodes if you missed any.
Thoughts on the Podcast?
Leave me a comment below or visit our discussion forum to leave a comment in the podcast section there.
Subscribe to the Podcast on iTunes or BeerSmith Radio
You can listen to all of my podcast episodes streaming live around the clock on our BeerSmith Radio online radio station! You can also subscribe to the audio or video using the iTunes links below, or the feed address
And finally, don't forget to subscribe to the blog and my newsletter (or use the links in the sidebar) – to get free weekly articles on home brewing.
Related Beer Brewing Articles from BeerSmith:
Enjoy this Article? You'll Love Our BeerSmith Software!
Don't make another bad batch of beer! Give BeerSmith a try - you'll brew your best beer ever.
Download a free 21 day trial of BeerSmith now