Follow @BeerSmith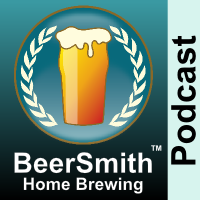 John Palmer and Stan Hieronymus join me this week for a special episode #200 beer brewing question and answer session.
Subscribe on iTunes to Audio version or Video version or on Google Play
Download the MP3 File– Right Click and Save As to download this mp3 file
[audio:http://traffic.libsyn.com/beersmith/BSHB-200-Anniversary.mp3]
Topics in This Week's Episode (52:42)
This week I welcome John Palmer and Stan Hieronymus join me for a special episode #200 of the BeerSmith Podcast. We have an informal question and answer session with two of the best in home brewing.
We start with some thoughts on reaching the 200th episode of the BeerSmith podcast and almost 9 years of podcasting.
Stan kicks it off with a discussion on why IBU estimates are not always accurate and why even measured IBUs from a lab may not tell the entire story.
John explains his thoughts on water adjustments for extract beer brewers.
Stan shares some of the differences between brewing on a home system versus a large commercial size system and what changes.
John talks about mash pH and the best ways to approach adjusting your mash pH to get the best beer.
Stan talks about double and triple dry hopped beers as well as what some of the new hopping schemes really entail.
John shares his thoughts on the judicious use of crystal malts.
Stan shares his thoughts on crystal malts as well as the larger issue of designing recipes.
They both share their thoughts on the recent decline in homebrewing in the US as well as what it might take to turn things around.
They share closing thoughts.
Sponsors
Thanks to John Palmer and Stan Hieronymus for appearing on the show and also to you for listening!
iTunes Announcements: I launched a new video channel for the BeerSmith podcast on iTunes, so subscribe now! At the moment it will only feature the new widescreen episodes (#75 and up). Older episodes are available on my revamped Youtube channel. Also all of my audio episodes are on iTunes now – so grab the older episodes if you missed any.
Thoughts on the Podcast?
Leave me a comment below or visit our discussion forum to leave a comment in the podcast section there.
Subscribe to the Podcast on iTunes or BeerSmith Radio
You can listen to all of my podcast episodes streaming live around the clock on our BeerSmith Radio online radio station! You can also subscribe to the audio or video using the iTunes links below, or the feed address
And finally, don't forget to subscribe to the blog and my newsletter (or use the links in the sidebar) – to get free weekly articles on home brewing.
Related Beer Brewing Articles from BeerSmith:
Enjoy this Article? You'll Love Our BeerSmith Software!
Don't make another bad batch of beer! Give BeerSmith a try - you'll brew your best beer ever.
Download a free 21 day trial of BeerSmith now