Follow @BeerSmith
Chris Graham, President of Morebeer joins me this week to discuss kegging home brewed beer and some of the new equipment available for kegging.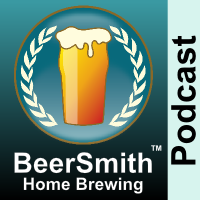 Subscribe on iTunes to Audio version or Video version or on Google Play
Download the MP3 File– Right Click and Save As to download this mp3 file.
Topics in This Week's Episode (50:34)
This week I welcome Chris Graham, the President of Morebeer. Chris has taught at the prestigious Siebel institute and was also a member of the Brewers Association board as well as the AHA Governing Council.
We briefly discuss our previous episode on kegging, and then start with a discussion of some of the advantages of kegging over bottling home brewed beer.
Chris explains the basic components of a kegging system.
We talk about the three major keg connections and the ball lock which is the most commonly used one in home brewing.
Chris walks us through the basic kegging process starting with beer in the fermenter.
We discuss keg refrigeration and various options to keep your beer cool.
Chris briefly discusses the issue of keg line balancing and how there is extra effort involved in planning and managing long keg lines.
Chris next switches to discuss some of the new devices available to home brewers for kegging – starting with the floating dip tube.
We talk about pressurized fermentation and pressurized keg transfers which can completely eliminate oxygen exposure when kegging your beer.
Chris tells us about new larger keg options including the 10 gal and 15 gal torpedo kegs.
We talk about a new type of keg line connection called Duotight which helps reduce the chance of keg line leaks.
Chris explains how you can also keg your mead and wine if done properly with argon or a CO2-nitrogen (stout mix).
Chris provides some closing tips on kegging your home brewed beer.
Sponsors
Thanks to Chris Graham for appearing on the show and also to you for listening!
iTunes Announcements: I launched a new video channel for the BeerSmith podcast on iTunes, so subscribe now! At the moment it will only feature the new widescreen episodes (#75 and up). Older episodes are available on my revamped Youtube channel. Also all of my audio episodes are on iTunes now – so grab the older episodes if you missed any.
Thoughts on the Podcast?
Leave me a comment below or visit our discussion forum to leave a comment in the podcast section there.
Subscribe to the Podcast on iTunes or BeerSmith Radio
You can listen to all of my podcast episodes streaming live around the clock on our BeerSmith Radio online radio station! You can also subscribe to the audio or video using the iTunes links below, or the feed address
And finally, don't forget to subscribe to the blog and my newsletter (or use the links in the sidebar) – to get free weekly articles on home brewing.
Related Beer Brewing Articles from BeerSmith:
Enjoy this Article? You'll Love Our BeerSmith Software!
Don't make another bad batch of beer! Give BeerSmith a try - you'll brew your best beer ever.
Download a free 21 day trial of BeerSmith now