Follow @BeerSmith
Michael Tonsmeire joins me this week to discuss some of the things he's learned about Sour Beers in the years since his American Sour Beers book was published.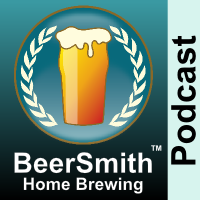 Subscribe on iTunes to Audio version or Video version or on Google Play
Download the MP3 File– Right Click and Save As to download this mp3 file.
Topics in This Week's Episode (49:52)
This week I welcome Michael Tonsmeire. Michael is the author of the book American Sour Beers (Amazon affiliate link), as well as author of the blog The Mad Fermentationist. Michael is also an award winning brewer, certified beer judge and founder of the brewery Sapwood Cellars in Columbia MD.
We start with a few words about Michael's experience with his brewery "Sapwood Cellars".
Next we talk a bit about Michael's book "American Sour Beer" and some of the new developments since he wrote the book.
Michael shares some of the new research as well as resources for sour beer brewers.
He tells us two things he believes he got wrong when he wrote the book.
We talk about his two concerns with the book, the largest of which was lacto-only primary fermentation.
We discuss some of the new topics he's considering for a next edition of the book.
Michael shares a new development in lactic producing yeast strains which are heavily being researched at the moment.
We discuss the explosion in Kettle souring and how it has evolved.
Michael explains "acid shock" in sour beers, which is a particular concern for those seeking to bottle sour beers.
He talks about how to acclimate yeast to acid both professionally and how you can do it at home.
He shares his final thoughts on sour beers as well as some of the new developments at Sapwood Cellars.
Sponsors
Thanks to Michael Tonsmeire for appearing on the show and also to you for listening!
iTunes Announcements: I launched a new video channel for the BeerSmith podcast on iTunes, so subscribe now! At the moment it will only feature the new widescreen episodes (#75 and up). Older episodes are available on my revamped Youtube channel. Also all of my audio episodes are on iTunes now – so grab the older episodes if you missed any.
Thoughts on the Podcast?
Leave me a comment below or visit our discussion forum to leave a comment in the podcast section there.
Subscribe to the Podcast on iTunes or BeerSmith Radio
You can listen to all of my podcast episodes streaming live around the clock on our BeerSmith Radio online radio station! You can also subscribe to the audio or video using the iTunes links below, or the feed address
And finally, don't forget to subscribe to the blog and my newsletter (or use the links in the sidebar) – to get free weekly articles on home brewing.
Related Beer Brewing Articles from BeerSmith:
Enjoy this Article? You'll Love Our BeerSmith Software!
Don't make another bad batch of beer! Give BeerSmith a try - you'll brew your best beer ever.
Download a free 21 day trial of BeerSmith now