Follow @BeerSmith
Randy Mosher joins me this week to discuss brewing fruity IPAs and using fruit in your IPAs.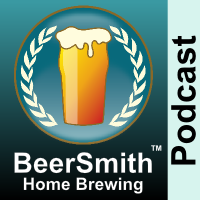 Subscribe on iTunes to Audio version or Video version or Spotify or Google Play
Download the MP3 File– Right Click and Save As to download this mp3 file.
Topics in This Week's Episode (52:20)
This week my guest is Randy Mosher. Randy is the author of Mastering Homebrew, Radical Brewing, and Tasting Beer. He's also partner in two breweries near Chicago Five Rabbit and Forbidden Root.
We start with a short discussion of the new book Randy's working on as well as the re-opening of his two breweries Five Rabbit and Forbidden Root.
Randy starts with a discussion of hops and how hops itself can be used to promote fruity flavors and aromas in an IPA.
We talk about the recent research into hops thiols, geraniol and linalool and how they can be used when dry hopping to promote tropical fruit flavors in IPAs.
Randy provides some advice on fruity IPA hop selection as it is critical for getting the flavor profile.
We next switch to the use of fruit in an IPA and how you can approach the correct flavor balance with an IPA. Randy also mentions citric fruits which do well with IPAs.
We discuss how fruit flavors change dramatically during fermentation which drives your fruit selection and also the level of sweetness needed in a beer to achieve balance.
Randy talks about acidity and how it can provide structure but can also easily upset the flavor balance especially in an IPA
We talk about backsweetening and the use of ingredients like lactose to sweeten a beer to replace sugars lost during fermentation.
Randy provides advice on using fruit in the primary vs secondary and also his preference for fruit juice versus whole fruit or puree.
Randy gives his closing thoughts on fruit beers.
Sponsors
Thanks to Randy Mosher for appearing on the show and also to you for listening!
iTunes Announcements: I launched a new video channel for the BeerSmith podcast on iTunes, so subscribe now! At the moment it will only feature the new widescreen episodes (#75 and up). Older episodes are available on my revamped Youtube channel. Also all of my audio episodes are on iTunes now – so grab the older episodes if you missed any.
Thoughts on the Podcast?
Leave me a comment below or visit our discussion forum to leave a comment in the podcast section there.
Subscribe to the Podcast on iTunes or BeerSmith Radio
You can listen to all of my podcast episodes streaming live around the clock on our BeerSmith Radio online radio station! You can also subscribe to the audio or video using the iTunes links below, or the feed address
And finally, don't forget to subscribe to the blog and my newsletter (or use the links in the sidebar) – to get free weekly articles on home brewing.
Related Beer Brewing Articles from BeerSmith:
Enjoy this Article? You'll Love Our BeerSmith Software!
Don't make another bad batch of beer! Give BeerSmith a try - you'll brew your best beer ever.
Download a free 21 day trial of BeerSmith now