Follow @BeerSmith
Gordon Strong joins me for a discussion on German Lager beer styles and some tips for making the perfect lager.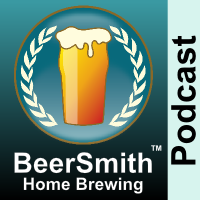 Subscribe on iTunes to Audio version or Video version or Spotify or Google Play
Download the MP3 File– Right Click and Save As to download this mp3 file.
Topics in This Week's Episode (47:30)
This week I welcome Gordon Strong. Gordon Strong is the President of the Beer Judge Certification Program, its highest rated beer judge, and author of the books Modern Homebrew Recipes and Brewing Better Beer (Amazon affiliate links).
We start with a short discussion of Gordon's recent activities and trip to Brazil before the pandemic.
We walk through some of the German beer styles including Pale Lagers, Malty German Lagers, Amber Lagers and Bocks.
Gordon explains some of the common elements from each including flavor and ingredients.
We then discuss some of the common elements in German lagers including the most common errors made when brewing them.
Gordon explains why a two step German Lager mash is absolutely critical for getting the attenuation and body right in these styles.
We talk about malty vs sweet malts and how you can improve your malt bill to get these styles right.
We discuss the use of continental hops.
Gordon describes the critical importance of proper fermentation and aging to hit these styles spot on.
We close with his thoughts on how to brew the perfect German Lager.
Sponsors
Thanks to Gordon Strong for appearing on the show and also to you for listening!
iTunes Announcements: I launched a new video channel for the BeerSmith podcast on iTunes, so subscribe now! At the moment it will only feature the new widescreen episodes (#75 and up). Older episodes are available on my revamped Youtube channel. Also all of my audio episodes are on iTunes now – so grab the older episodes if you missed any.
Thoughts on the Podcast?
Leave me a comment below or visit our discussion forum to leave a comment in the podcast section there.
Subscribe to the Podcast on iTunes or BeerSmith Radio
You can listen to all of my podcast episodes streaming live around the clock on our BeerSmith Radio online radio station! You can also subscribe to the audio or video using the iTunes links below, or the feed address
And finally, don't forget to subscribe to the blog and my newsletter (or use the links in the sidebar) – to get free weekly articles on home brewing.
Related Beer Brewing Articles from BeerSmith:
Enjoy this Article? You'll Love Our BeerSmith Software!
Don't make another bad batch of beer! Give BeerSmith a try - you'll brew your best beer ever.
Download a free 21 day trial of BeerSmith now