Follow @BeerSmith
Jeff Bloem joins me from Murphy & Rude Malting to discuss Craft Malting and brewing with Craft Malts.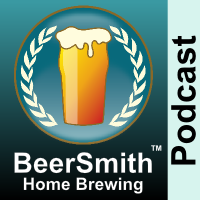 Subscribe on iTunes to Audio version or Video version or Spotify or Google Play
Download the MP3 File– Right Click and Save As to download this mp3 file.
Topics in This Week's Episode (46:26)
This week I welcome Jeff Bloem to the show. Jeff is the founder and head malster at Murphy & Rude Malting Co located in Charlottesville, Virginia. Started in 2018, Murphy & Rude is Virginia's first dedicated commercial malt producer, now making over 25 malts for regional brewers and distillers.
We start with an introduction to how Jeff got into the business of craft malting.
Jeff explains the malting process and the type of equipment he uses to malt raw barley
We talk about Jeff's Mill Fresh program which promotes the use of fresh local ingredients in brewing.
Jeff explains how to integrate craft malts into existing recipes for both craft brewing and home brewing.
We talk about the ASBC sensory method for evaluating malt flavors and aroma.
Jeff discusses some considerations that come into play when using craft malts for your recipe design.
We talk about how craft malts cost a bit more than bulk commercial malts, and how businesses can leverage and market their investment int craft malts and local ingredients.
Jeff talks about distilleries and how their requirements are a bit different than a typical brewery.
We discuss some of Jeff's home brewing experiments with his malts and how those developed.
Jeff shares is closing thoughts.
Sponsors
Thanks to Jeff Bloem for appearing on the show and also to you for listening!
iTunes Announcements: I launched a new video channel for the BeerSmith podcast on iTunes, so subscribe now! At the moment it will only feature the new widescreen episodes (#75 and up). Older episodes are available on my revamped Youtube channel. Also all of my audio episodes are on iTunes now – so grab the older episodes if you missed any.
Thoughts on the Podcast?
Leave me a comment below or visit our discussion forum to leave a comment in the podcast section there.
Subscribe to the Podcast on iTunes or BeerSmith Radio
You can listen to all of my podcast episodes streaming live around the clock on our BeerSmith Radio online radio station! You can also subscribe to the audio or video using the iTunes links below, or the feed address
And finally, don't forget to subscribe to the blog and my newsletter (or use the links in the sidebar) – to get free weekly articles on home brewing.
Related Beer Brewing Articles from BeerSmith:
Enjoy this Article? You'll Love Our BeerSmith Software!
Don't make another bad batch of beer! Give BeerSmith a try - you'll brew your best beer ever.
Download a free 21 day trial of BeerSmith now