Follow @BeerSmith
Mathias Siebler, a 10th generation German hop farmer, joins me this week from Bavaria to discuss growing hops.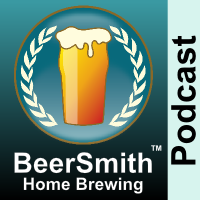 Subscribe on iTunes to Audio version or Video version or Spotify or Google Play
Download the MP3 File– Right Click and Save As to download this mp3 file.
Topics in This Week's Episode (50:44)
This week I welcome Matthias Siebler. Mathias founded Hops2Brew in 2015 with the goal of linking together hop growers, researchers and the brewing industry. Their web shop is at https://hops2brew.de/en/. He is a 10th generation German hop farmer with degrees in Civil Engineering and a Master's in Agriculture. He joins us today from Germany.
They asked me to include some fun links to their process and products: https://www.youtube.com/watch?v=6HsP2nrv-ug and https://www.youtube.com/watch?v=9OwqwBzMDDM
We discuss the nature of growing hops in Germany and how many of the farms are family owned.
Matthias explains how the German hop market is different than the US and how it is primarily focused on growing noble hops for brewing lagers.
We talk about the varieties grown and also how they are harvested and packaged usually into pellets for use.
Matthias discusses how the hops are tied to the three most popular German beer styles.
He shares his thoughts on the current IPA revolution in craft brewing here in the US and how it has spread to other parts of Europe but not really in Germany.
We talk about how the German hop market is dominated by contracting with a few large distributors and how those contracts drive what farmers grow.
Matthias shares his thoughts on where the market is going and the future of German hops.
Sponsors
Thanks to Matthias Siebler for appearing on the show and also to you for listening!
iTunes Announcements: I launched a new video channel for the BeerSmith podcast on iTunes, so subscribe now! At the moment it will only feature the new widescreen episodes (#75 and up). Older episodes are available on my revamped Youtube channel. Also all of my audio episodes are on iTunes now – so grab the older episodes if you missed any.
Thoughts on the Podcast?
Leave me a comment below or visit our discussion forum to leave a comment in the podcast section there.
Subscribe to the Podcast on iTunes or BeerSmith Radio
You can listen to all of my podcast episodes streaming live around the clock on our BeerSmith Radio online radio station! You can also subscribe to the audio or video using the iTunes links below, or the feed address
And finally, don't forget to subscribe to the blog and my newsletter (or use the links in the sidebar) – to get free weekly articles on home brewing.
Related Beer Brewing Articles from BeerSmith:
Enjoy this Article? You'll Love Our BeerSmith Software!
Don't make another bad batch of beer! Give BeerSmith a try - you'll brew your best beer ever.
Download a free 21 day trial of BeerSmith now