Follow @BeerSmith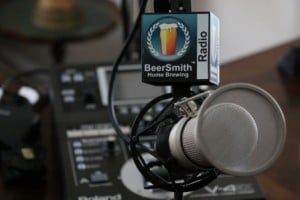 This week Jake Keeler joins me to discuss how to Brew in a Bag (BIAB). Brew-in-a-bag is a popular alternative to traditional all grain beer brewing methods and saves on both time and equipment needed to get into all grain brewing.
iTunes Announcements: I launched a new video channel for the BeerSmith podcast on iTunes, so subscribe now! At the moment it will only feature the new widescreen episodes (#75 and up). Older episodes are available on my revamped Youtube channel. Also all 76 audio episodes are on iTunes now – so grab the older episodes if you missed any.
Download the MP3 File – Right Click and Save As to download this mp3 file
[audio:http://traffic.libsyn.com/beersmith/BSHB-77-BIAB-Keeler.mp3]

Topics in This Week's Episode (46:55)
Jake Keeler is my guest this week. Jake is chair of the American Homebrewer Association governing committee, chair of the industry subcommittee and Marketing Manager at Brewer's Supply Group. Jake is also a former host of Brewing.TV and has a personal web site at 20AcreCarcass.com
Jake tells us what Brew-in-a-bag (BIAB) is and why it is starting to really catch on with many home brewers.
We talk about some of the advantages of BIAB over traditional brewing including cost of equipment and time saved
Jake shares his thoughts on BIAB equipment needed from the perspective of a home brewer transitioning from extract to all grain
We talk about the bag required and where to get one
Jake walks us through the BIAB mashing process
We talk about efficiency with BIAB, as well as some tips on getting the most out of it
Jake brings us up to date on what he's been doing since leaving Brewing TV
We talk about the brewing industry as a whole and how home brewing has really exploded the last few years
Jake shares his thoughts on fly fishing, art, his web site why we brew beer and his experience with Brewing TV
I highly encourage watching the video this week – Jake really did a great job with this interview!
Thanks to Jake Keeler for appearing on the show and also to you for listening!
Thoughts on the Podcast?
Leave me a comment below or visit our discussion forum to leave a comment in the podcast section there.
Subscribe to the Podcast on iTunes or BeerSmith Radio
You can listen to all of my podcast episodes streaming live around the clock on our BeerSmith Radio online radio station! You can also subscribe to the audio or video using the iTunes links below, or the feed address
And finally, don't forget to subscribe to the blog and my newsletter (or use the links in the sidebar) – to get free weekly articles on home brewing.
Related Beer Brewing Articles from BeerSmith:
Enjoy this Article? You'll Love Our BeerSmith Software!
Don't make another bad batch of beer! Give BeerSmith a try - you'll brew your best beer ever.
Download a free 21 day trial of BeerSmith now