Follow @BeerSmith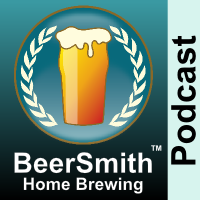 Denny Conn joins me this week to discuss a number of experiments he has made on evaluating and improving your beer. Specifically he addresses decoction mashing, first wort hopping and biases in evaluating your beer.
Subscribe on iTunes to Audio version or Video version
Download the MP3 File – Right Click and Save As to download this mp3 file
[audio:http://traffic.libsyn.com/beersmith/BSHB-102-Eval-Beer-Conn.mp3]

Topics in This Week's Episode (39:17)
Denny Conn, the author of Experimental Homebrewing (Amazon affiliate link) joins me this week to discuss decoction mashing, first wort hopping and biases in evaluating your beer. Denny has some interesting and unexpected results based on his blind tasting experiments.
I apologize for the audio/video quality this week. Denny had some connection issues, and we only had a limited time to complete the interview.
Thank you to our sponsor Craft Beer and Brewing Magazine who is still offering a 15% discount with your subscription or other items when you use the new offer code beersmith2015 when you purchase.
Also thanks to our new sponsor BREWHA brewing equipment. Please check out their new innovative brewing setups that let you make better beer quickly.
Also check out BeerSmith Mobile software and the new DVDs John Palmer and I filmed – How to Brew with Malt Extract and How to Brew All Grain are available now.
We start with a discussion of some of Denny's recent projects including a new book he's working on.
Denny discusses his approach to evaluating beer and also how you can make incremental improvements.
We talk about his philosophy of creating the best beer with the least amount of effort.
Denny shares his first experiment which compares decoction and non-decoction brewed beers with blind taste tests.
He provides some interesting results which show that decoction may not provide a huge payoff for the effort involved in brewing the beer
We discuss his next experiment which attempts to quantify the benefits of first wort hopping
Denny has mixed results with evaluating first wort hopping, but still concludes that the technique has value
We discuss some additional experiments in evaluating beer conducted by Dr Bamforth and Dr Smythe using professional beer evaluators
They find significant problems and biases in evaluating beer. They conclude that serious unbiased beer evaluation is very hard to do
Denny provides some thoughts on evaluating beer and how you can improve when evaluating your own beer
Denny closes with some final words
Thanks to Denny Conn for appearing on the show and also to you for listening!
iTunes Announcements: I launched a new video channel for the BeerSmith podcast on iTunes, so subscribe now! At the moment it will only feature the new widescreen episodes (#75 and up). Older episodes are available on my revamped Youtube channel. Also all 81 audio episodes are on iTunes now – so grab the older episodes if you missed any.
Thoughts on the Podcast?
Leave me a comment below or visit our discussion forum to leave a comment in the podcast section there.
Subscribe to the Podcast on iTunes or BeerSmith Radio
You can listen to all of my podcast episodes streaming live around the clock on our BeerSmith Radio online radio station! You can also subscribe to the audio or video using the iTunes links below, or the feed address
And finally, don't forget to subscribe to the blog and my newsletter (or use the links in the sidebar) – to get free weekly articles on home brewing.
Related Beer Brewing Articles from BeerSmith:
Enjoy this Article? You'll Love Our BeerSmith Software!
Don't make another bad batch of beer! Give BeerSmith a try - you'll brew your best beer ever.
Download a free 21 day trial of BeerSmith now