Follow @BeerSmith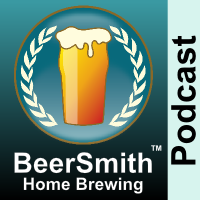 John Blichmann from Blichmann Engineering joins me this week to discuss brewing "big" high gravity beers. John covers some of the special challenges including reduced mash efficiency, split mashing, balancing your big beer and fermentation and aging.
Subscribe on iTunes to Audio version or Video version
Download the MP3 File – Right Click and Save As to download this mp3 file
[audio:http://traffic.libsyn.com/beersmith/BSHB-117-Big-Beer.mp3]

Topics in This Week's Episode (40:23)
John Blichmann, the head of Blichmann Engineering joins me this week to discuss brewing high gravity beers. John covers a wide variety of topics including compensating for reduced efficiency, hitting your gravity, doing a split mash, balancing your beer, yeast starters and aging your big beer.
Thank you to our sponsor Craft Beer and Brewing Magazine who is still offering a 15% discount with your subscription or other items when you use the new offer code beersmith2015 when you purchase.
Also check out BeerSmith, BeerSmith Mobile software and the new DVDs John Palmer and I filmed – How to Brew with Malt Extract and How to Brew All Grain are available now. You can subscribe to the BeerSmith newsletter for free to get some great articles on home brewing.
We discuss some of the beer styles that are typically categorized as "high gravity" beers. High gravity starts around 1.080 SG.
John explains why you get lower efficiency when brewing a large beer and how you need to use more grain for all grain brewing with a big beer.
I ask him roughly how much efficiency you can expect to lose
We discuss scaling a regular recipe up to be a "big beer" and how specialty grains, hops and other ingredients come into play.
John talks about how mash tun volume can also be a limitation when brewing a "big" beer as most mash tuns can't hold all of the grains needed.
We talk about John's recent experiments brewing using a "split" mash with his BrewEasy system. Split mashing involves doing two separate mash processes on the same wort to create a high gravity wort in a limited volume mash tun.
We discuss mash pH and some considerations around balancing mash pH for a big beer.
John explains why aeration and a strong yeast starter is very important for high gravity beers. We also discuss yeast selection and stuck fermentations.
We talk about why big beers often require additional aging and conditioning as well as longer fermentation times.
John discusses his new line of brewing equipment called Anvil. Anvil is a separate line of equipment John developed with author John Palmer to provide an economical high quality selection for home brewers. You can learn more at AnvilBrewing.com
John shares his closing thoughts and recent projects.
Thanks to John Blichmann for appearing on the show and also to you for listening!
iTunes Announcements: I launched a new video channel for the BeerSmith podcast on iTunes, so subscribe now! At the moment it will only feature the new widescreen episodes (#75 and up). Older episodes are available on my revamped Youtube channel. Also all 81 audio episodes are on iTunes now – so grab the older episodes if you missed any.
Thoughts on the Podcast?
Leave me a comment below or visit our discussion forum to leave a comment in the podcast section there.
Subscribe to the Podcast on iTunes or BeerSmith Radio
You can listen to all of my podcast episodes streaming live around the clock on our BeerSmith Radio online radio station! You can also subscribe to the audio or video using the iTunes links below, or the feed address
And finally, don't forget to subscribe to the blog and my newsletter (or use the links in the sidebar) – to get free weekly articles on home brewing.
Related Beer Brewing Articles from BeerSmith:
Enjoy this Article? You'll Love Our BeerSmith Software!
Don't make another bad batch of beer! Give BeerSmith a try - you'll brew your best beer ever.
Download a free 21 day trial of BeerSmith now