Follow @BeerSmith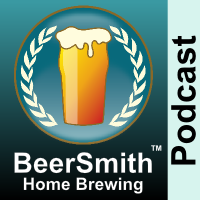 Christian Krzykwa from Industrial Test Systems joins me to discuss how to measure your beer brewing water, understanding a water report and also managing your mash pH. With the introduction of test kits and pH meters you can use at home you can get more control than ever over your brewing water and the beer brewing process.
Editors Note: I apologize for the "flash" glitches in the video feed this week. We had a hardware failure and I'm in the process of buying replacement equipment to resolve it.
Subscribe on iTunes to Audio version or Video version
Download the MP3 File – Right Click and Save As to download this mp3 file
[audio:http://traffic.libsyn.com/beersmith/BSHB-118-Water.mp3]

Topics in This Week's Episode (38:40)
Christian Krzykwa from Industrial Test Systems is my guest this week to discuss water testing and its importance in brewing. They make water test kits including the Smart Brew water testing kit designed specifically for quick electronic testing of your local water supply.
Thank you to our sponsor Craft Beer and Brewing Magazine who is still offering a 15% discount with your subscription or other items when you use the new offer code beersmith2015 when you purchase.
Also check out BeerSmith, BeerSmith Mobile software and the new DVDs John Palmer and I filmed – How to Brew with Malt Extract and How to Brew All Grain are available now. You can subscribe to the BeerSmith newsletter for free to get some great articles on home brewing.
We discuss what Industrial Test Systems does in water testing for a variety of fields.
Christian explains why understanding the mineral content of your water is very important to home and professional brewers.
He talks about how to read a water report and what are some of the key things to look at in your water report.
We explore the "big six" water ions measured in brewing and what these do for you.
He tells us why Magnesium is important for yeast and also how Calcium and Magnesium determine a water's total hardness.
Sulfate and Chloride play an important role in determining the hop balance of the finished beer – particularly the Sulfate/Chloride ratio.
We talk about how Bicarbonate, Caldium and Magnesium drive Residual Alkalinity which is a measure of how resistant the water pH is to change during the mash.
All of these items become important in the mash where maintaining a mash pH between roughly 5.2 and 5.4 is important for the overall flavor profile and stability of the beer. Alkaline water and acidic grains both play an important role here.
Christian tells us why measuring your mash pH is still important even if you know your ingredients – as the final mash pH is very difficult to predict.
We talk about some ingredients you can use to adjust your mash pH – including water additives to raise the pH and more commonly acids like Lactic Acid and Acid malt to reduce the pH.
Christian spends a few minutes talking about the ITS "Smart Brew" kits which include digital water testing as well as a digital pH meter.
We talk about what ions you can measure with the kit
He also explains the accuracy of the iDip unit as well as the pH meter
Christian shares his closing thoughts.
Thanks to Christian Krzykwa for appearing on the show and also to you for listening!
iTunes Announcements: I launched a new video channel for the BeerSmith podcast on iTunes, so subscribe now! At the moment it will only feature the new widescreen episodes (#75 and up). Older episodes are available on my revamped Youtube channel. Also all 81 audio episodes are on iTunes now – so grab the older episodes if you missed any.
Thoughts on the Podcast?
Leave me a comment below or visit our discussion forum to leave a comment in the podcast section there.
Subscribe to the Podcast on iTunes or BeerSmith Radio
You can listen to all of my podcast episodes streaming live around the clock on our BeerSmith Radio online radio station! You can also subscribe to the audio or video using the iTunes links below, or the feed address
And finally, don't forget to subscribe to the blog and my newsletter (or use the links in the sidebar) – to get free weekly articles on home brewing.
Related Beer Brewing Articles from BeerSmith:
Enjoy this Article? You'll Love Our BeerSmith Software!
Don't make another bad batch of beer! Give BeerSmith a try - you'll brew your best beer ever.
Download a free 21 day trial of BeerSmith now