Follow @BeerSmith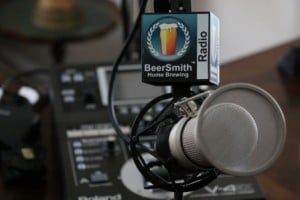 Matt Brynildson, the Brewmaster for Firestone Walker and five time GABF brewer of the year joins me this week to discuss hops and brewing Firestone Walker's beers.
Subscribe on iTunes to Audio version or Video version or on Google Play
Download the MP3 File – Right Click and Save As to download this mp3 file
[audio:http://traffic.libsyn.com/beersmith/BSHB-139-Firestone.mp3]

Topics in This Week's Episode (43:10)
Today my guest is Matt Brynildson, the Brewmaster at Firestone Walker brewery. Matt is a five time GABF "Brewer of the Year" award winner as well as four time World Beer Cup Champion. He has trophys and medals in just about every beer category.
I do apologize for the background hum this week – they are building a new brewery next to Matt's office so some of the construction noise came through in the background.
Matt and I discuss the Craft Beer and Brewing retreat where we met along with our friend John Mallet who was on a short time ago (pictures here as well).
We also discuss Matt's interesting approach of using hop blends instead of individual hops on most of his recipes.
Matt shares how he approaches hop selection which is done primarily by sensory and rubbing of the hops looking for a strong "popping" aroma.
We talk about some of the challenges commercial brewers face in sourcing hops.
Matt shares his experiences and knowledge about the hop market which is now truly a global market.
We talk about how Firestone selects and develops new hops for their beers.
He discusses how he occasionally gets to work directly with hop growers and some of the things he's learned from them.
We discuss the new "Luponic" project and how it actually highlights different hop varieties.
He also explains the new partnership with Duvel on beers.
Matt tells us a bit more about new projects at Firestone Walker as well as the new brewery you can hear being constructed in the background.
Sponsors
Thanks to Matt Brynildson for appearing on the show and also to you for listening!
iTunes Announcements: I launched a new video channel for the BeerSmith podcast on iTunes, so subscribe now! At the moment it will only feature the new widescreen episodes (#75 and up). Older episodes are available on my revamped Youtube channel. Also all of my audio episodes are on iTunes now – so grab the older episodes if you missed any.
Thoughts on the Podcast?
Leave me a comment below or visit our discussion forum to leave a comment in the podcast section there.
Subscribe to the Podcast on iTunes or BeerSmith Radio
You can listen to all of my podcast episodes streaming live around the clock on our BeerSmith Radio online radio station! You can also subscribe to the audio or video using the iTunes links below, or the feed address
And finally, don't forget to subscribe to the blog and my newsletter (or use the links in the sidebar) – to get free weekly articles on home brewing.
Related Beer Brewing Articles from BeerSmith:
Enjoy this Article? You'll Love Our BeerSmith Software!
Don't make another bad batch of beer! Give BeerSmith a try - you'll brew your best beer ever.
Download a free 21 day trial of BeerSmith now