Follow @BeerSmith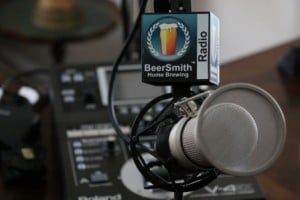 Curt Stock joins me this week to discuss brewing the perfect Cream Ale and a little bit about fruit meads.
Subscribe on iTunes to Audio version or Video version or on Google Play
Download the MP3 File – Right Click and Save As to download this mp3 file
[audio:http://traffic.libsyn.com/beersmith/BSHB-162-Cream-Ale.mp3]
Topics in This Week's Episode (34:12)
Today my guest is Curt Stock. Curt is a former American Homebrewer's Association Governing Committee member and was also the 2005 mead maker of the year. Curt is a member of the St Paul Homebrewer's Club and last appeared way back in episode #20.
Curt begins with a description of the Cream Ale beer style – it is a very drinkable light ale similar in some ways to a Koelsch.
We talk about Genessee Cream Ale from Rochester as well as a few other commercial examples like Spotted Cow.
Curt shares his thoughts on the history of Cream Ale and how it evolved as a pre-prohibition response to the rise of light lagers. It was once called "present use" ale and also has some roots back to Koelsch.
We talk about the grain bill extensively which includes typically pale ale and as much as 20% corn or rice adjuncts.
The corn/rice really don't add much of a creamy finish (which comes from the yeast) but instead will lighten the beer and add alcohol but not much flavor.
Curt tells us his own formula for cream ale which is about 80% pilsner malt and 20% flaked corn.
We discuss the best mash schedule. Curt prefers a low temperature mash while I suggest a "lager" mash where you have steps both at low and high temps to maximize fermentability.
We talk about hop schedules and the low IBU level (usually around 15 IBUs) for a cream ale, as well as why whirlpool and dry hopping may not be appropriate for this style.
We discuss the importance of yeast. Curt recommends Wyeast 1056, while I explain my experiments with White labs Cream Ale yeast in cider.
Curt shares his thoughts on fermenting out and finishing a cream ale including a fairly high carbonation level. Curt also likes to filter his cream ales.
We talk about bottling/aging a cream ale though it is intended to be consumed quickly after finishing.
Curt shares his final thoughts on cream ale.
We spend a few minutes talking about big fruit meads as well as how those lessons may be applied to making fruit beers.
Sponsors
Thanks to Curt Stock for appearing on the show and also to you for listening!
iTunes Announcements: I launched a new video channel for the BeerSmith podcast on iTunes, so subscribe now! At the moment it will only feature the new widescreen episodes (#75 and up). Older episodes are available on my revamped Youtube channel. Also all of my audio episodes are on iTunes now – so grab the older episodes if you missed any.
Thoughts on the Podcast?
Leave me a comment below or visit our discussion forum to leave a comment in the podcast section there.
Subscribe to the Podcast on iTunes or BeerSmith Radio
You can listen to all of my podcast episodes streaming live around the clock on our BeerSmith Radio online radio station! You can also subscribe to the audio or video using the iTunes links below, or the feed address
And finally, don't forget to subscribe to the blog and my newsletter (or use the links in the sidebar) – to get free weekly articles on home brewing.
Related Beer Brewing Articles from BeerSmith:
Enjoy this Article? You'll Love Our BeerSmith Software!
Don't make another bad batch of beer! Give BeerSmith a try - you'll brew your best beer ever.
Download a free 21 day trial of BeerSmith now