Follow @BeerSmith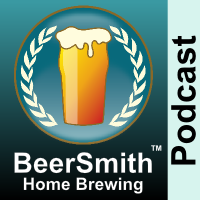 Michael Tonsmeire joins me this week to discuss brewing New England India Pale Ale styles along with a few new projects including his brewery "Sapwood Cellars" opening in Columbia, MD.
Subscribe on iTunes to Audio version or Video version or on Google Play
Download the MP3 File – Right Click and Save As to download this mp3 file
[audio:http://traffic.libsyn.com/beersmith/BSHB-166-NE-IPA.mp3]
Topics in This Week's Episode (47:08)
Today my guest is Michael Tonsmeire. Michael is the author of the book Sour Beers (Amazon affiliate link) as well as the blog The Mad Fermentationist. Michael is an award winning brewer and BJCP judge, and is opening a new brewery called "Sapwood Cellars" in Columbia, MD this summer.
We start with a brief discussion of Michael's new brewery "Sapwood Cellars".
Michael explains the New England IPA style, which though not formally defined has recently become popular.
We discuss the history of the style, which started only about 6 years ago.
Michael tells us the key differences between the NE IPA and a typical West Coast IPA.
We talk about the haze and how the cloudiness in the beer comes about.
Michael shares his thoughts on the appropriate grain bill to use for this IPA.
We discuss which hop varieties are appropriate for a New England IPA as well as hop schedules.
Michael talks about the "fluffy" or "pillowy" mouthfeel for a New England IPA
He shares his thoughts about mash schedules, yeast and fermentation
We talk about why NE IPAs are oxygen sensitive.
He gives us some advice on related styles as well as final tips on NE IPAs.
We discuss the upcoming launch of Michael's new brewery called "Sapwood Cellars" opening in Columbia, MD this summer.
Sponsors
Thanks to Michael Tonsmeire for appearing on the show and also to you for listening!
iTunes Announcements: I launched a new video channel for the BeerSmith podcast on iTunes, so subscribe now! At the moment it will only feature the new widescreen episodes (#75 and up). Older episodes are available on my revamped Youtube channel. Also all of my audio episodes are on iTunes now – so grab the older episodes if you missed any.
Thoughts on the Podcast?
Leave me a comment below or visit our discussion forum to leave a comment in the podcast section there.
Subscribe to the Podcast on iTunes or BeerSmith Radio
You can listen to all of my podcast episodes streaming live around the clock on our BeerSmith Radio online radio station! You can also subscribe to the audio or video using the iTunes links below, or the feed address
And finally, don't forget to subscribe to the blog and my newsletter (or use the links in the sidebar) – to get free weekly articles on home brewing.
Related Beer Brewing Articles from BeerSmith:
Enjoy this Article? You'll Love Our BeerSmith Software!
Don't make another bad batch of beer! Give BeerSmith a try - you'll brew your best beer ever.
Download a free 21 day trial of BeerSmith now