Follow @BeerSmith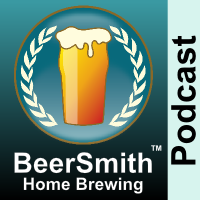 This week Chris Graham from MoreBeer joins me to discuss the wide variety of new fermenter options available to home brewers including everything from a simple bucket to a temperature controlled stainless conical.
Subscribe on iTunes to Audio version or Video version or on Google Play
Download the MP3 File – Right Click and Save As to download this mp3 file
[audio:http://traffic.libsyn.com/beersmith/BSHB-177-Fermenter.mp3]
Topics in This Week's Episode (56:38)
Today my guest is Chris Graham. Chris is the President of MoreBeer and MoreFlavor Inc, one of the top online suppliers of homebrewing equipment and ingredients. Chris is also an instructor at the World renowned Seibel Brewing Institute.
We start with a discussion of beginning fermenter options including the plastic bucket and also the glass carboy.
We discuss additional options including the newer foodsafe plastic carboys and plastic bucket style fermenters.
Chris shares some of the advantages of a conical fermenter which lets you harvest and separate yeast as well as enhances fermentation activity.
We also discuss other shapes including the flat bottomed brew bucket style of fermenter.
Chris talks about materials used in homebrew fermenters including glass, plastics and stainless steel and advantages of each.
We discuss the new crop of high end fermenters that include conical stainless steel systems for both 5 gal (19 l) and 10 gal (38 l) batch sizes.
Some new fermenters also include temperature control options – so we discuss briefly how these systems work.
He explains pricing of fermenters which go all the way from a $10-15 bucket to potentially thousands of dollars for a glycol chilled stainless fermenter.
Chris shares his closing thoughts.
Sponsors
Thanks to Chris Graham for appearing on the show and also to you for listening!
iTunes Announcements: I launched a new video channel for the BeerSmith podcast on iTunes, so subscribe now! At the moment it will only feature the new widescreen episodes (#75 and up). Older episodes are available on my revamped Youtube channel. Also all of my audio episodes are on iTunes now – so grab the older episodes if you missed any.
Thoughts on the Podcast?
Leave me a comment below or visit our discussion forum to leave a comment in the podcast section there.
Subscribe to the Podcast on iTunes or BeerSmith Radio
You can listen to all of my podcast episodes streaming live around the clock on our BeerSmith Radio online radio station! You can also subscribe to the audio or video using the iTunes links below, or the feed address
And finally, don't forget to subscribe to the blog and my newsletter (or use the links in the sidebar) – to get free weekly articles on home brewing.
Related Beer Brewing Articles from BeerSmith:
Enjoy this Article? You'll Love Our BeerSmith Software!
Don't make another bad batch of beer! Give BeerSmith a try - you'll brew your best beer ever.
Download a free 21 day trial of BeerSmith now