Follow @BeerSmith
Thomas Miller joins me this week to discuss brewing the Marzen and Helles German beer styles.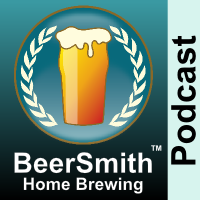 Subscribe on iTunes to Audio version or Video version or Spotify or Google Play
Download the MP3 File– Right Click and Save As to download this mp3 file.
Topics in This Week's Episode (47:38)
This week I welcome Thomas Miller to discuss two German beer styles. Thomas has been part of the brewing industry since 1990. He has been widely published across a variety of print and internet media serving America's craft beer scene, including "BrewPub" and "Brew Your Own" magazines. He published his first novel, "An Oktoberfest Death," (Amazon affiliate link) in 2020. You can also visit his web site here.
We start with a discussion of Thomas' background in beer brewing and writing about beer. We also talk briefly about his new book.
We next move to the Oktoberfest and Marzen beer styles associated with the Munich Oktoberfest. We start by talking a bit about the culture surrounding the festival and beer style.
Thomas tells is a how to brew the beer starting with the grain bill and hops.
We talk about yeast and fermenting this lager style.
Next we move on to the Helles beer style which is also a drinkable German lager.
We discuss the grain bill, hops and finish on Helles.
Thomas finishes with a discussion on his new fictional book "An Oktoberfest Death" (Amazon affiliate link) and tells us where to find it.
Thomas also shared his "Tips from the Pros" BYO article on Munich and Vienna malts.
Sponsors
Thanks to Michael Tonsmeire for appearing on the show and also to you for listening!
iTunes Announcements: I launched a new video channel for the BeerSmith podcast on iTunes, so subscribe now! At the moment it will only feature the new widescreen episodes (#75 and up). Older episodes are available on my revamped Youtube channel. Also all of my audio episodes are on iTunes now – so grab the older episodes if you missed any.
Thoughts on the Podcast?
Leave me a comment below or visit our discussion forum to leave a comment in the podcast section there.
Subscribe to the Podcast on iTunes or BeerSmith Radio
You can listen to all of my podcast episodes streaming live around the clock on our BeerSmith Radio online radio station! You can also subscribe to the audio or video using the iTunes links below, or the feed address
And finally, don't forget to subscribe to the blog and my newsletter (or use the links in the sidebar) – to get free weekly articles on home brewing.
Related Beer Brewing Articles from BeerSmith:
Enjoy this Article? You'll Love Our BeerSmith Software!
Don't make another bad batch of beer! Give BeerSmith a try - you'll brew your best beer ever.
Download a free 21 day trial of BeerSmith now